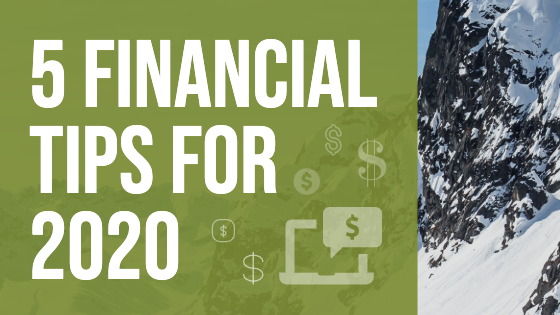 Happy 2020, Alaska! Together, we're embracing a brand new year of possibilities. Start your new year right with a few tips and tricks to improve your finances in 2020, and make more of those awesome possibilities a reality.
Shop Smarter
As a savvy Alaskan, we know you're looking for the best deals on local goods and online orders alike. Whether you're shopping in person or via the internet, be sure to always pay with your CU1 debit or credit card. You won't just earn points for "charged" purchases – you'll also earn them on regular ol' debit transactions. That's a deal that's unique to CU1, so take advantage!
Save Faster
Speaking of CU1 Rewards, redeeming your points for a cash rebate is always a great way to pad your savings account. To make this redemption, simply login to Online Access and select More > Rewards. You'll see on-screen instructions on how to quickly convert your points to cash!
You can also redeem points for a higher dividend rate on your next certificate, so funds you've locked away for a rainy day earn a better rate of return. Save more today, and you'll thank yourself tomorrow.
Grow Your Credit Score
Recently, your credit score got a new and improved parking spot on the Online Access dashboard, thanks to our free Credit Score tool.
Monitor changes to your score, view personalized tips to improve it – and hey, if you're not signed up for this service yet, do that now! It's free and easy under Menu > Credit Score in the CU1 Mobile App.
Streamline Your Services
2020 marks the start of a brand new decade, and in this futuristic new era, you may be ready to bid adieu to paper statements, paper bills and more.
Electronic documents are easier to locate when you need them, they're a more secure alternative to your streetside mailbox, and when you also use Bill Pay, you can avoid the fuss of paper payments altogether.
Update your eDocument preferences in Online Access under More > eDocuments.
Trust Your Card
It's time to change the story of your financial future with a credit card you can feel safe using. Did you rack up some uncomfortable debt during the holidays? No sweat; we can help fix that. Balance transfers are always free at CU1. We also protect you with competitive rates, fewer fees and great rewards – because that's what a #FinancialBestie would do.
Questions about a particular tip or topic above?

Seize the opportunity to chat with a #FinancialBestie at Credit Union 1.