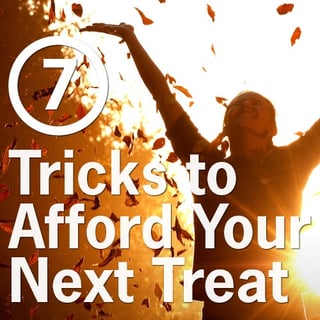 You know what the best part of cooler weather is? It's TREAT season! October, November and December are each full of indulgence in their own ways, which means a particular treat may be on your mind. Dreaming of an ATV, snowmachine or Hawaiian vacation? What about a simple dinner and movie night? No matter what your idea of "splurging" entails, we can help you plan ways to afford it. Check out the following seven tricks to afford your next treat!
Refinance your debt. If you've paid down an existing loan, you may have equity available or other options that will lower your monthly payment. This can add some flex to your budget, making room for something AWESOME!
Reconsider your other bills. If your heart is set on an ATV or snowmachine, maybe you don't really need that deluxe cable package any more. Cancel this expense to pad your budget, since you'll be having way too much fun to watch TV.
Evaluate your insurance! Full coverage insurance is required on all collateralized loans over $5,000 at CU1. Check with your credit union and insurance company for a discount or seasonal waiver!
Get a cosigner. If your credit score doesn't qualify you for the greatest loan interest rate, consider a cosigner to boost your position. You could score a lower monthly payment, which means a more affordable purchase!
Cash in on One for All Rewards. You may have enough points to earn a loan interest rate discount on your next vehicle! If not, you can redeem your balance toward CASH to spend any which way you'd like.
Split up your payment. Is it tough to gather funds for a large payment each month? Split it up instead and pay a portion from each of your paychecks.
Collateralize whenever you can. Did you know that a paid-off car or snowmachine can actually help rid you of unsecured debt like credit cards? CU1 can use many different types of collateral for security on a loan, and with collateral you could earn a much lower loan interest rate (which means a faster payoff – AND it may look better on your credit report!).
See! Who knew you were so close to your next dream purchase? Chat with CU1 today about any of these options that interest you, and if we missed an important trick, feel free to share in the comments.
Enjoy today's blog? Let us know in the comments! Subscribe to send our posts straight to your inbox! Keep updated with news of all the cool stuff we're doing and talking about at CU1.