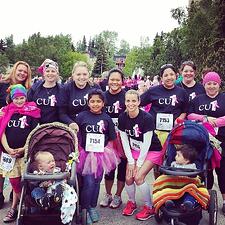 On Saturday, Team CU1 walked along with 6,000 other moms, sisters, grandmas, aunts, daughters, co-workers, neighbors and friends at the Alaska Run for Women in Anchorage. All of these amazing women join together every year for one reason, to raise awareness and fight against breast cancer.
Team CU1 gathered early on Saturday morning, proudly wearing our team shirts to celebrate survivors and remember cancer victims in our families and community. After the emotional national anthem, the different races began. My 3-year old daughter was with me so we signed up for the untimed 5-mile Party Wave race! The 5 miles went by quickly and each check point was decorated with pink balloon arches, music and people cheering the walkers and runners on. At the end of the race we gathered in the stadium and told survivor stories around a free cup of Kaladi's coffee and yummy Great Harvest Bread. Others did yoga, a Zumba workout, admired the port-a-potties or took hilarious pictures against the photo back drop. Live music played in the background creating great energy and strong spirits that lasted throughout the whole event. I hope that all women are equally strong and spirited during the battle with cancer.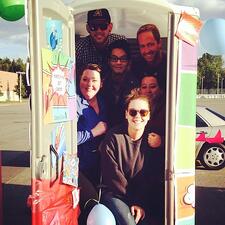 I have to admit though, my favorite part of the Alaska Women's Run was decorating a port-a-potty the night before. Credit Union 1 sponsored a potty and employees plastered it with POW's and KABAM's and superwomen graphics illustrating our desire to knock out cancer! The strong winds and light rain drops didn't dampen our spirit whatsoever. The camaraderie and silliness that came out of decorating a port-a-potty helped lighten the mood around such an important topic - bringing people together to fight cancer.