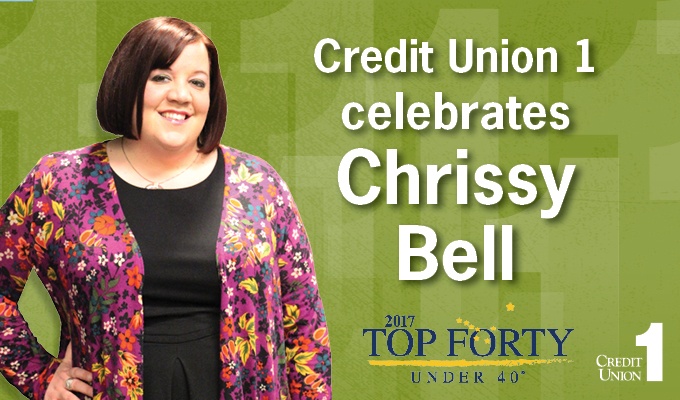 Credit Union 1 is excited and honored to celebrate Chrissy Bell, our Senior Vice President of Communications and Culture, as a Top Forty Under 40 award recipient! This award, sponsored by the Alaska Journal of Commerce, recognizes the state's top professionals who are younger than age 40 and have demonstrated professional excellence and a commitment to their community.

During Bell's tenure at CU1, she has streamlined the credit union's community outreach efforts and led the charge for record-breaking, year-over-year fundraising and volunteerism efforts throughout Alaska. These efforts have increased our community service and fundraising activity by more than 150%!
"Bell's enthusiasm for our community mission and business philosophy is infectious, and as a result we have a strong work force that is energized and enthusiastic about working at Credit Union 1."

- Leslie Ellis, former President/CEO of Credit Union 1
In addition to Bell's CU1 success, "she has maintained her commitment and passion for community service by serving on numerous boards and committees as well as volunteering her time," states Rachel Langtry, Vice President of e-Services at the credit union. One such volunteer commitment has been with Junior Achievement of Alaska, who's President, Flora Teo, states that Bell's support has helped "strengthen [and] steer the strategic direction of the organization."
At Credit Union 1, Bell oversees the development and administration of all marketing, human resources, training and community engagement programs, including public relations, internal and external communications, community outreach and technical and sales training. She has also been instrumental in the development and implementation of the credit union's short and long term goals and objectives.
"Chrissy has brought enthusiasm and energy to her role with Credit Union 1 for years now. It is a pleasure to work with her day in and day out to serve our members' needs and make this a premier place to work."

- James Wileman, Credit Union 1's Chief Operating Officer
Bell's efforts to expand CU1 community outreach and positively impact the lives of our Alaskan membership truly exemplify the One for All spirit of our organization. As a young leader within our credit union and state, we proudly support her ongoing success and congratulate this milestone!