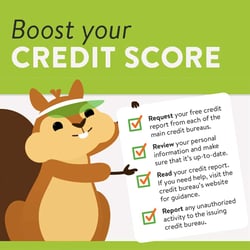 A few weeks ago, we shared a blog about what exactly your credit score means and we gave you the scoop on 13 things you didn't know about credit. Now that you know what your number represents, let's look at ways to improve it! When you have a healthier credit score, you'll enjoy lower loan interest rates – which basically means you pay less for the money you borrow. Win-win!
Want to learn even more about credit? Sign up for a FREE Discover Financial Fitness class offered in-person and online.

Enjoy today's blog? Let us know in the comments! Subscribe to send our posts straight to your inbox! Keep updated with news of all the cool stuff we're doing and talking about at CU1.