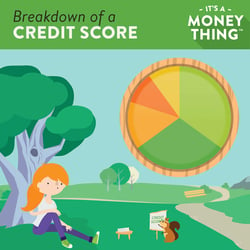 Most people have a vague idea of what credit scores are. Something to do with how well you pay your bills, right? On the surface, your credit score may not seem too important – but if you're ever in need of a loan, this number can make a big difference in how much your borrowed money costs. Take a look through the info below, and then come chat with CU1 to learn more!

Want some more info on what makes up your credit score? Check out one of our FREE financial education classes offered online and in-person.
Enjoy today's blog? Let us know in the comments! Subscribe to send our posts straight to your inbox! Keep updated with news of all the cool stuff we're doing and talking about at CU1.