CU1 is happy to announce our fourth annual celebration of #GivingTuesday in Alaska! Today, our employees will be taking to the streets to give over $19,000 in donations and acts of kindness throughout our state.
What is #GivingTuesday? #GivingTuesday is a national movement that harnesses the collective power of charities, families, businesses and individuals to transform how people think about, talk about and participate in the giving season. Coinciding with the Thanksgiving holiday and the kickoff of the holiday shopping season, our credit union's #GivingTuesday efforts are meant to inspire Alaskans to take collaborative action to improve your local communities and give back in better ways to the charities and causes you support.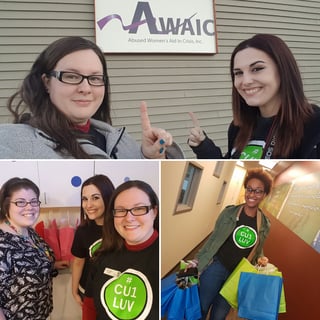 How is CU1 celebrating? To offset the social buzz around Black Friday and Cyber Monday, which are synonymous with holiday shopping, today we are placing $19,000+ in the hands of our statewide employees and allowing them to use these funds in whatever "giving" capacity they choose. In past years, our employees have donated to organizations such as The Children's Lunchbox, Boys & Girls Club of Eagle River, Soldotna Teen Center, Fairbanks Youth Advocates, Kodiak Women's Resource and Crisis Center, First City Homeless Services, the Boys & Girls Club of Nome and many more. In addition, many employees choose to use their portion of funds to complete "random acts of kindness," such as paying for Alaskans' utilities, groceries, gas or meals, handing out hats, scarves and gloves at bus stops, and delivering gifts and goodies to local senior citizen centers.
At Credit Union 1, we're beyond excited to empower our employees to mobilize and spread goodwill on #GivingTuesday and always, in keeping with the worldwide credit union founding principle of "people helping people." Our credit union has a long history of being community-minded and socially responsible in Alaska, and we hope that this giving spirit will be particularly impactful on #GivingTuesday as our employees work to spread kindness and philanthropy toward a better Alaska for all.