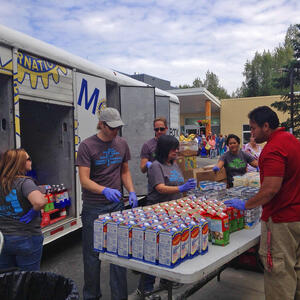 Yesterday, team CU1 was at it again – volunteering to make our Alaskan community a better place to live! We helped distribute food from the mobile food pantry sponsored by the Food Bank of Alaska to the residents of Chickaloon Landing.
Chickaloon Landing is a Cook Inlet Housing Authority rental community for seniors or persons with disabilities. We arrived about 30 minutes prior to the "opening" of the pantry and had a chance to meet the residents waiting in the already-growing line. We chatted about the weather (it was a beautiful warm day), learned a bit about their life history, their families and some of the great things Chickaloon Landing does for their residents. Residents go on outings four times a week, have weekday lunches sponsored by the Salvation Army, and of course the monthly food pantry. Their excitement was evident – not only for the food pantry, but also for the chance to interact with new, smiling faces. At CU1, we're pretty good at providing those!
When the mobile pantry truck arrived, we busied ourselves getting everything ready to go. We set up tables, unloaded palettes of boxes, and arranged everything according to food type to ensure everything went smoothly. I was in a bit of awe at not only the sheer amount of donated food, but also the variety. There was everything from organic milk, whole-wheat bread, fresh fruits and veggies – even fresh spinach, to frozen pizzas, a wide assortment of baked goods and desserts, and ready-to-eat deli salads – all of which were donated by local businesses.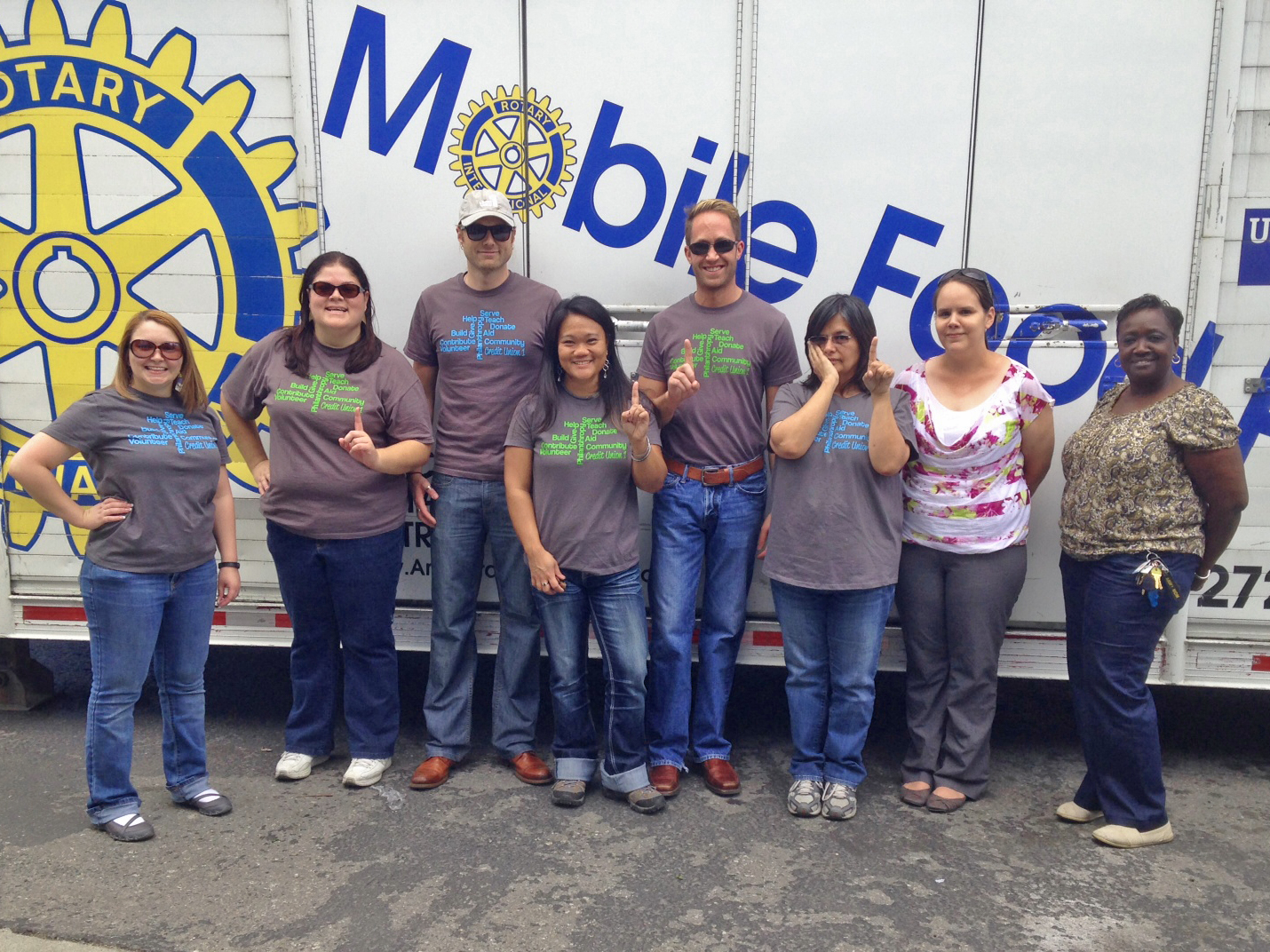 Finally the time arrived when the residents could start "shopping" – and boy were they ready! I could tell how thankful the residents were that we were there, which was the best part of this event – their gratitude. I hold the belief that volunteers get just as much out of volunteering as do the recipients, if not more, and my experience here certainly reinforced this belief! In the end, over 70 people visited the pantry that day and were able to fill their pantries to the brim – all without having to leave the place they call home.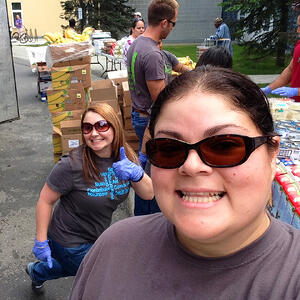 Although we gave out a ton of food, there was a bit left over and I wondered what was going to happen to it and what we should do with it. After brainstorming for a few minutes, we thought "Bean's Café!" CU1 has worked with Bean's for years and we couldn't think of an organization that could put the leftover food to better use. So, we loaded up my car with the remainder and team CU1 headed to Bean's Café to donate!
It was our first time being involved with this project, but it won't be our last! We've signed up for future dates and I'm looking forward to those just as much as the residents of Chickaloon Landing. This event shows that when community resources come together, everyone involved benefits – even those who are there simply to help.
Enjoy today's blog? Subscribe to stay tuned! We'll update you with news of the cool stuff we're doing and talking about at CU1.