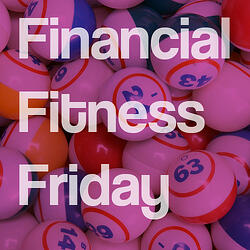 When I was in the eighth grade, I won a poster contest during Domestic Violence Awareness Month and had my artwork turned into a billboard. It's the only contest I've ever won, IN MY ENTIRE LIFE! No hard feelings though – I still love the thrill and possibility of winning the lottery someday (or maybe just a free sandwich at my favorite lunch joint). Winning is fun, free stuff is fun, and I'm especially fond of contests that don't require significant skill. Can I get an amen?!
This weekend marks the final days of Credit Union 1's summer loan contest. Finance a new loan by July 15, and you'll be entered to win one of five $1,000 MasterCard gift cards!* That's a pretty sweet deal – and here's the sneaky reason why. You don't need to go pick out the perfect new car or Alaskan toy over the next few days. You also don't need to sign up for a new monthly payment. Nope! Instead, make use of a loan you have elsewhere! By refinancing to CU1, you'll be automatically entered into the prize pot. Plain and simple. And financially savvy!
Let's talk about the value of the "RE-FI." Honestly, before I knew any better, this whole concept sounded a lot like "extra work" – and who needs that? I was wrong though. Refinancing has got to be one of the fastest and easiest ways I've found to save money. Period.
When you first make a new purchase, it's easy to sign the dotted line on whatever loan approval shows up to the party. This means people often settle for less-than-ideal rates or terms, just to get their new keys in hand. Sound familiar? Don't despair! Simply approach your bank or credit union with the deal you have elsewhere, and ask them to top it. You'll discuss options and yourunique needs, and many times, you'll walk away with a lower monthly payment and/or terms that better fit your lifestyle. WIN!
If your monthly budget is feeling crunched right now, consider the refinancing options you may have. Refinancing exists to help you get better deal on your loan, making it more affordable and easy on your pocketbook. So take advantage of the opportunity! A loan officer at your favorite financial institution can guide you through what options are available, and they'll take care of the paperwork involved. I've refinanced a few times over the years to save money when needed, and each time it's been a smooth and painless process. Plus, if you get cracka-lackin' and complete a CU1 refinance by July 15, you'll have a shot at their contest prize pot. Good luck!
Enjoy today's blog? Subscribe to stay tuned! We'll update you with news of the cool stuff we're doing and talking about at CU1.
*NO PURCHASE OR LOAN FUNDING NECESSARY TO ENTER OR WIN. For details and official contest rules, speak to any Credit Union 1 branch representative or go to cu1.org