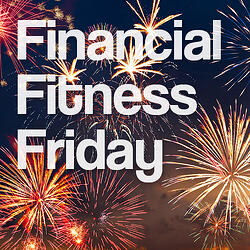 Happy Fourth of July! While I'm busy burning hamburgers, bathing in sunshine and watching my kiddos chase each other around the yard today, I hope you're enjoying America's birthday in your own favorite way. July 4th is possibly my favorite day of summer. It's a great time to enjoy what matters most: good food, family and friendship – plus the celebration of the nation we've built together.
While I could go into a long list of things I'm grateful for today, I'll keep it focused on thankfulness for financial freedom. While at times I may feel constrained by my monthly bills, debt load or income, we all have the freedom to make positive financial changes in our lives. For example – how cool is it that you have the power to pick and choose your financial institution, and that banks and credit unions want to earn your business? I love knowing that my credit union cares about my goals (and progress toward them), because this gives me the freedom to enjoy so many other areas of life.
I watched a pretty interesting re-run of "Undercover Boss" the other day (don't judge), and a gas station worker on the show was talking about how he moved his family to America because this is the land of opportunity. As someone who was born and raised here, I sometimes forget that privilege and difference from other areas of the world. Our finances are truly in our own hands, and we have the inherent freedom to work toward our dreams. Wahooo!
This evening, as you admire fireworks and parades with the rest of your fellow USA'ers, be sure to take a minute and drink it all in. Although we each have unique life goals, struggles, etc., together we're living the true American dream.
Enjoy your holiday!
Like today's blog? Subscribe to stay tuned! We'll update you with news of the cool stuff we're doing and talking about at CU1.