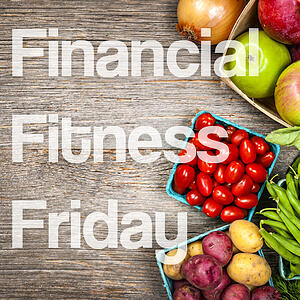 Like so many of my fellow Alaskans, I'm an implant to our state. My hubby and I both hail from the Lower 48, and this week, we're lucky to have family visiting from down there! Summer is a great time for guests in Alaska, because there are so many fun and affordable things to do. Can't stretch your cash for an airplane tour or charter fishing trip? No problem! Go for a hike to Flat Top, the Matanuska Glacier, or any of the other AMAZING foot-accessible spots in our state. Good, cheap, fun.
Yesterday, we took my aunt-and-uncle-in-law to a "pick your own produce" farm in the Valley. Tons of sunshine, fresh air and great-looking greens made the trip an excellent, budget-friendly adventure. We went home with bags and bags of locally grown produce – which in turn saves us money on restaurant bills while relatives are in town!
I know you're wondering, so I'll share: We had fresh broccoli cheese soup and baked bread for dinner, with homemade rhubarb crisp for dessert. Total cost of this fabulous meal for four? Under $10!
I remember when we moved to AK and everything fun seemed out of our reach. Certainly, it's easy to drop a small fortune on the adventures our state has to offer. But that doesn't mean you need to bust your budget to enjoy the area. Instead, search event listings in your local news for free community activities. Ask your friends and neighbors for their favorite site-seeing spots, and plan to walk or bike the trail. Take advantage of your "resident" status to score an inexpensive fishing license, and go fill your freezer with Alaskan bounty!
If you play your cards right, summer is the perfect time of year to have a great time AND save money. Your utility bills are low thanks to sunshine and warmer weather, and you can hoard food that will last into winter. Get out to your local farmers market (or pick-your-own farm!) today and stock up on freezer-friendly essentials that will keep your food bills low this winter. Skip the gym membership and exercise in the great outdoors instead! Most of all, don't feel defeated by costly Alaskan activities that tourists gobble up this time of year. This state is our playground, and each season brings new ways to enjoy it!
Enjoy today's blog? Subscribe to stay tuned! We'll update you with news of the cool stuff we're doing and talking about at CU1.