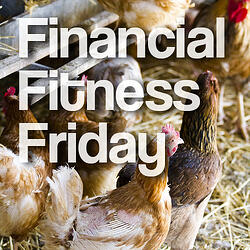 Something pretty gross happened at my house this week. We butchered our chickens, fifteen of which now reside in the freezer. Despite the mild emotional trauma and compulsive kitchen-cleaning I've experienced since then, it's SO satisfying to see a freezer full of homegrown food! Not many Alaskans can feed, clothe or shelter themselves without modern day conveniences like Fred Meyer and the utility company. Although I'm FAR from being self-sufficient, growing my own meals is empowering and awesome. Plus, it saves me money.
Lots of everyday expenses seem non-negotiable. Groceries, fuel, utilities – the list goes on! I've yet to find a vehicle that runs on good wishes and air, but here are a few everyday ways to cut the bills that come back each week:
Food. Take time to shop for deals. Name brands aren't as important as ingredients – so skip the most popular items in favor of the best prices and content. My recent reminder of this came while shopping for kid-friendly snack items. There's a $1 difference between name brand raisin packs versus generic! Raisins?! Pretty sure these are just dried grapes. I don't need fancy packaging for my little ones to love them.
In Anchorage, "Bike to Work" day is gaining more and more of a foot-hold each year. But why wait for one day a year? Use the nice weather that's left in coming weeks, and hoof it/pedal it to work. You'll save money on gas and vehicle wear, plus the exercise will improve your health. If non-motorized travel isn't in your future, consider trading in that gas-guzzler toward something more fuel efficient. Your weekly fuel savings will help ease the cost of other vehicle-related expenses!
Utilities. With the days growing darker and colder in the coming months, your utility costs are going to increase. Womp wommmmmmp. While the weather's still warm, take a day to do any necessary maintenance on your house. This may mean replacing the weather stripping around your doors and windows, changing your water and air filters, or any other steps that will make your heat and electricity stretch a little further each month. This means more work in the short term, but more money in your pocket over the long haul.
If I've missed one of your favorite money-saving tricks, I hope you'll leave it in the comments below. I love hearing other peoples' "life hacks" – and it's great to share your wisdom with fellow penny-pinching Alaskans!
Now, I'm off to start dinner in the crock pot. Guess what we're having for the next fifteen weeks?
Enjoy today's blog? Let us know in the comments! Subscribe to stay tuned! We'll update you with news of the cool stuff we're doing and talking about at CU1.