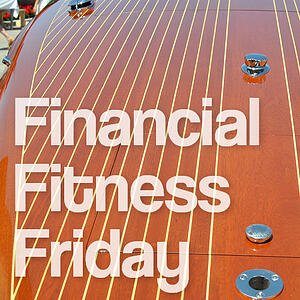 I met my husband ten years ago, when I was a green, small town girl just visiting home for summer break from college. Dan was living the bachelor life, which meant frozen dinners, dirty socks, and not knowing how to monitor his bank account. He spent his money like a free bird each month, and when his card was finally declined, he lived on Ramen noodles until payday!
I didn't have this haphazard spending problem, because I was flat broke. Making minimum wage at my summertime job, I insisted on homemade dinner for date night and video rentals instead of the big screen. Dan conceded on dinner, but he bought concert tickets instead of dollar DVDs. I swooned! The universe had set our love story in motion: a classic spender and saver who will butt heads on finances forever more.
This month marks our five year wedding anniversary, and Dan wants to celebrate by buying a very large boat. One of our first dates was on a questionably-seaworthy vessel, as we cruised along the shoreline in the most romantic of manners. Then the motor died. Our boats have improved over the years, but my sweetheart always has his eyes set on the next big thing. Somehow, we balance opposite financial tendencies while maintaining a happy household – but it's not always easy! We can't fight our nature, but we can improve our habits.
Today, instead of spending until his card is declined, Dan and I keep tabs on our budget and how much is available for daily use. We agree on certain saving goals, but we leave some money "liquid" as a compromise. I've loosened my purse string death grip, because I've learned from my dear hubby that work is more rewarding when you enjoy some part of the paycheck.
Your personal circumstances are unique, but today, try and identify spending/saving tendencies among the people closest to you. There are lessons to be learned from each type, and by bending a little in each direction, you'll be on track to a happier balance. Now if I can just compromise my way out of an anniversary boat and into a bouquet of flowers, I'll be set!