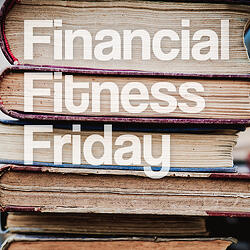 My favorite Friday of the month is HERE! Why the excitement? Well, I'm part of a Book Club (which as any woman will tell you, is code for "eating/gossiping/generally not discussing any book" – and tonight, this serious literary event is at my house. I chose a book that's staged in the Alaskan wilderness, with a family of pretty hardcore survivalists. Although I don't plan to swap my house for a sturdy tent any time soon, I did take a page from this book (figuratively!) when it comes to simplicity and simple happiness in life.
Here's your food for thought on this grey, rainy day!
How much money should I save? How much is going to make you happy? How much will make you comfortable? Chances are, your answer is not "$0" – although that's the number in many folks' savings accounts. Make a simple change today, by contributing something more to savings each month. Whether that's $5 or $50, you'll feel better about your balance if you take some small, proactive measure toward boosting it each month. As ongoing motivation, remember the difference between how much you NEED and WANT in savings. By making small, steady progress toward your "needs," you'll be closer to achieving your long term "wants."
How much money can I spend? Although it's easy to snatch credit card offers out of your mailbox and stockpile plastic in your wallet, it's not so easy to control spending within responsible bounds. Emergencies and unexpected circumstances happen, but for the most part, you should stick to spending REAL money and not the exciting, imaginary credit card kind. To trim spending and get a better idea of your necessary weekly budget, try going a week or more with only spending the money you NEED to spend – no extravagances. This means skipping the coffee-stand coffee, evaluating your costly vices, and even limiting the money you spend on food and gas. Shop smart instead of often, and you'll find that the money you need to spend is much less than imagined. What to do with the newfound "fat" in your budget? Well, put it toward savings of course! Or outstanding debt, which will save you money on interest.
This evening, as I fill up on book club dessert and good conversation, I plan to fully appreciate these simple luxuries of life. However you spend your own evening, I challenge you to evaluate your own keys to living richly! I bet you'll find this answer isn't solely based in money – so don't panic if your path to healthy finances is a long one. You'll get there one step at a time. Enjoy the journey!
Enjoy today's blog? Subscribe to stay tuned! We'll update you with news of the cool stuff we're doing and talking about at CU1.