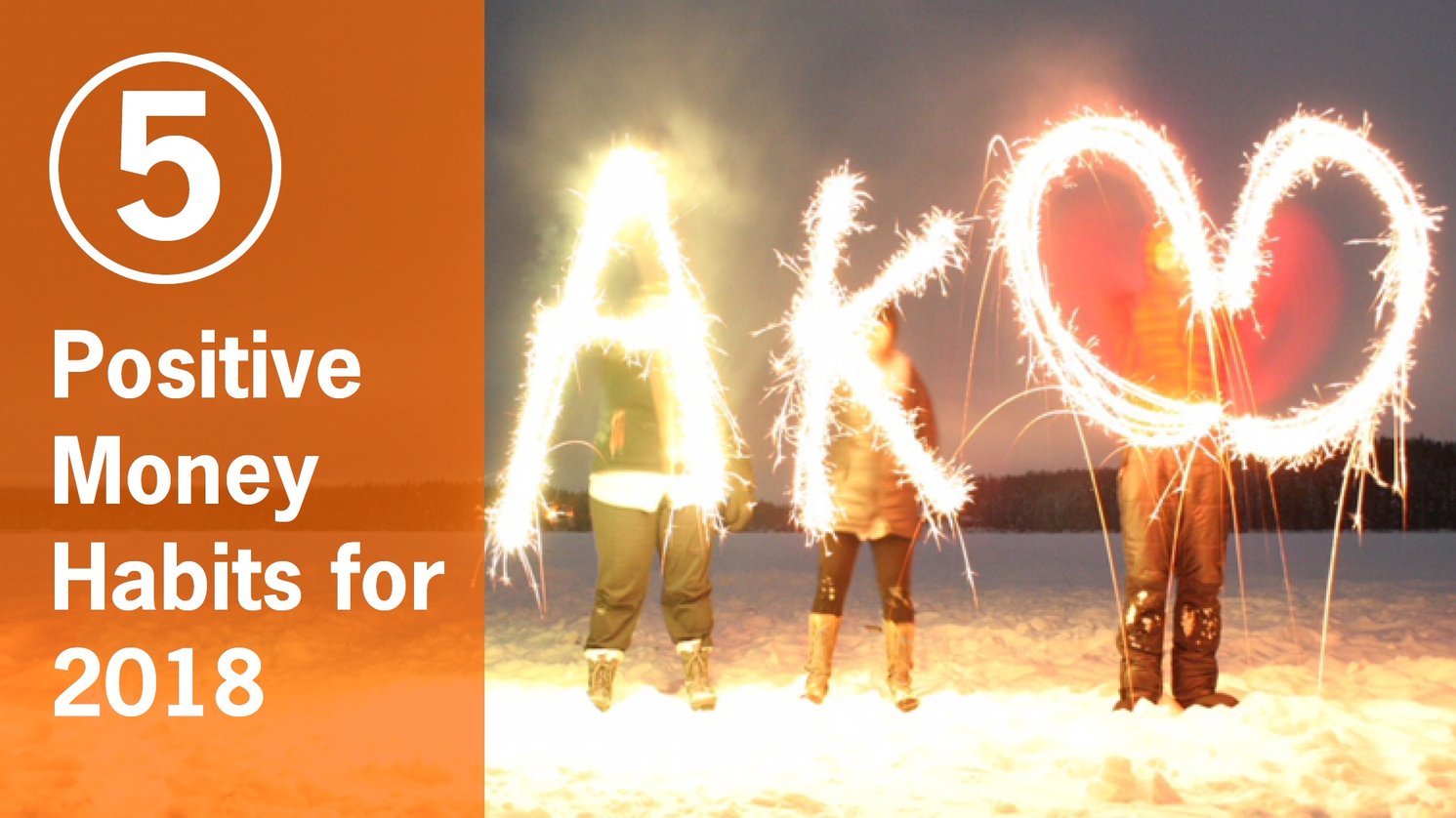 Raise your hand if New Year's resolutions are on your mind this month! Some of the most common (and beneficial) resolutions you'll encounter have to do with physical health and financial well-being. While both these topics can be extremely valuable to your year ahead, they can also be uniquely challenging. Luckily, CU1 is here to help! Check out these five positive money habits that will help pave the way to a fun and successful 2018.
1. Confront Your Debt.
First, don't let any debt you've racked up over the holidays overwhelm you. Lots of people accidently overspend in November and December, and the damage is not undoable. If you're struggling to overcome holiday credit card debt come January, consider a no-fee balance transfer to Credit Union 1. We can help combine your high interest rate balances from stores and elsewhere into one convenient, money-saving spot. By securing a lower loan interest rate, you'll pay your balance off faster and be able to apply those funds toward other New Year goals.
2. Now, give yourself a raise.
Perhaps you've heard the age-old advice that it's important to "pay yourself first." This means that whenever you receive a paycheck, it's important to set aside a specific sum toward savings, to help you build financial padding and security. The dollar amount you set aside doesn't need to be enormous – the point is that you stick to your promised amount, no matter what, as a payment toward your own future. At the start of a new year, it may be time to give yourself a savings raise! Choose whatever amount you can afford, and even though it may hurt a bit to pay that larger "bill" to yourself, you'll be happy in the long run to watch your nest egg grow more quickly.
3. Next, make sure your spending account has your back.
You may think of a spending/checking account as a fairly mundane thing. Your money goes into the account, it's there when you need to spend it, and done. Not so! Spending accounts are a helpful benefit that your financial institution provides, but this account should also earn its place in your heart. For instance, did you know that many spending accounts at CU1 come with free cashier's checks, money orders and Bill Pay? These services can actively save you money during the year (not to mention the awesome convenience of automated bill payments) – plus all of our accounts come with free ID Theft Protection from Mastercard. If you're not picky about which spending account you use, you could be missing out on perks and benefits that truly earn your business.
4. Monitor your account.
In the tech-savvy year of 2018, you no longer need to worry about manually balancing your accounts or monitoring your balance in paper format. Instead, take advantage of Notifications from CU1, as an automatic way to keep the "pulse" on your financial well-being. With Notifications, you can receive a text message, email or push notification when money goes into or out of your account. These messages are 100% customizable, and they can also be an excellent safety measure to alert you of unwanted withdrawals. Sign up for Notifications under Online Access > Settings, and you'll be instantly aware of account activity.
5. Reconsider your larger picture.
If balancing logical goals with your heart's desires seems like a daunting task in the New Year, don't worry – you're not alone. Lots of people struggle to make financial sense of what they want versus what they need. One helpful way to reconcile these two areas is to consider the ways you currently spend money and how they can better lead to where you want to be. For instance, if your heart is set on an ATV or snowmachine, maybe you don't really need a deluxe cable package or high-end cell phone bundle any more. Cancel these fluffier expenses to pad your budget, and you'll be that much closer to your awesome, outdoor goal.
Now that you have FIVE huge motivators to guide your 2018 financial goals, it's time to embrace the months ahead and look forward to change! As always, Credit Union 1 is here to help you with whatever curveballs come your way – so don't hesitate to reach out to us at any time.
Eager to move more accounts to CU1?
Visit any CU1 branch to get started on a simple switchover, and enjoy the perks of banking in one easy place!
Cover photo submitted by Josh Gildersleeve.