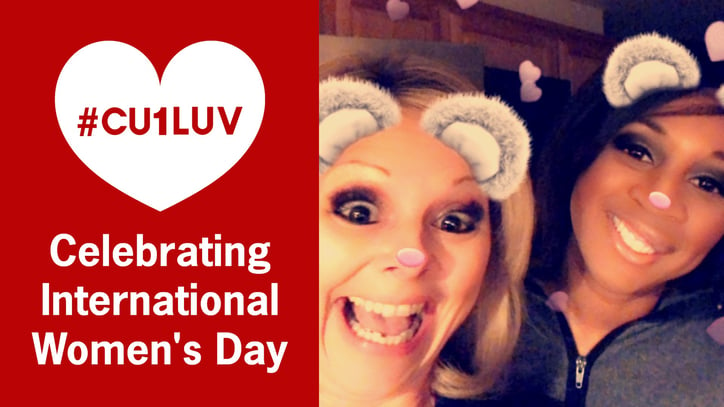 A few months ago, Credit Union 1 was honored to again be named one of the top 49 businesses in Alaska by Alaska Business Monthly. Our credit union currently employs over 350 Alaskans in communities ranging from Ketchikan to Nome! In honor of International Women's Day on March 8, 2018, we'd like to highlight a few of the many women who have helped build (and continue to improve) our organization. In a pool of 72 manager and supervisor positions at our credit union, 58 of these roles are filled by women. WHOA!
For over 30 years, Credit Union 1 was led by President/CEO Ms. Leslie Ellis. Although Leslie retired in 2014, we're extremely proud to have recently promoted two very impressive women (whom she helped mentor!) to the roles of Chief Lending Officer (CLO) and Chief Operating Officer (COO). Let's hear it for two of our favorite female leaders at Credit Union 1:

Davina Napier

and Rachel Langtry!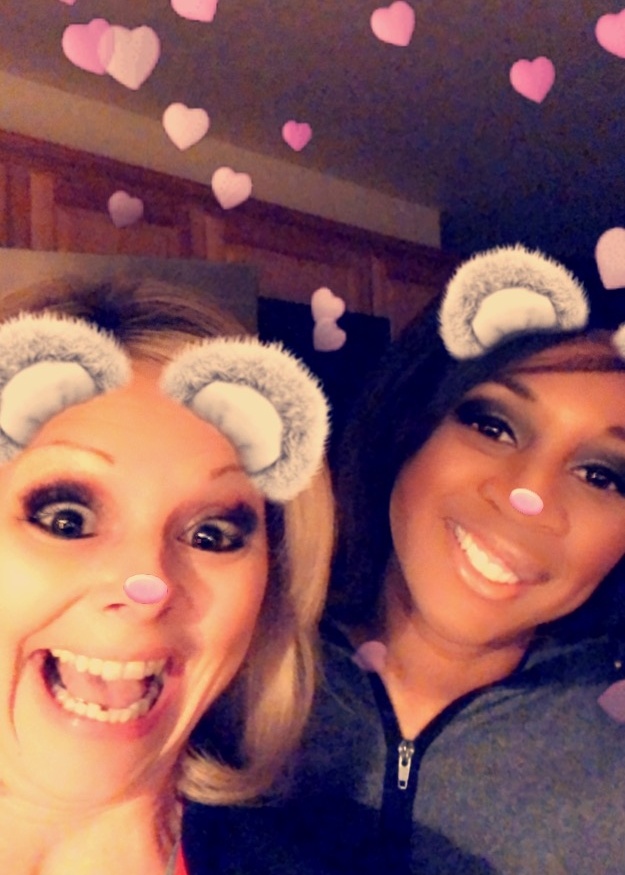 The night before launching a new #CU1LUV initiative with our employees, Davina and Rachel were so excited they couldn't sleep -- so they stayed up late celebrating the #CU1LUV on Snapchat! Both ladies were also up and at work early (like it was Christmas morning), wearing heart-shaped sunglasses. Think they love their jobs?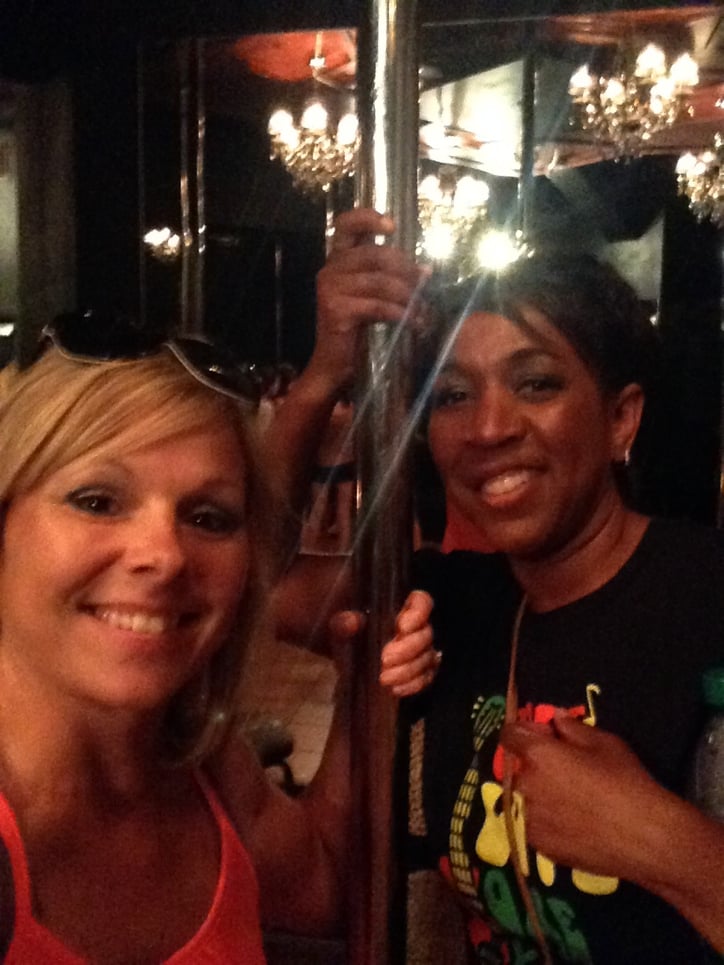 Says Rachel, "This was our "girls' weekend" in Las Vegas after Davina graduated from Western CUNA Management School! That was a pivotal moment because it was the start of her continuing her education, which was a huge decision and milestone. Now if we're being honest, there's a pole in between us because we went to a special training session -- but we don't have to talk about that :)."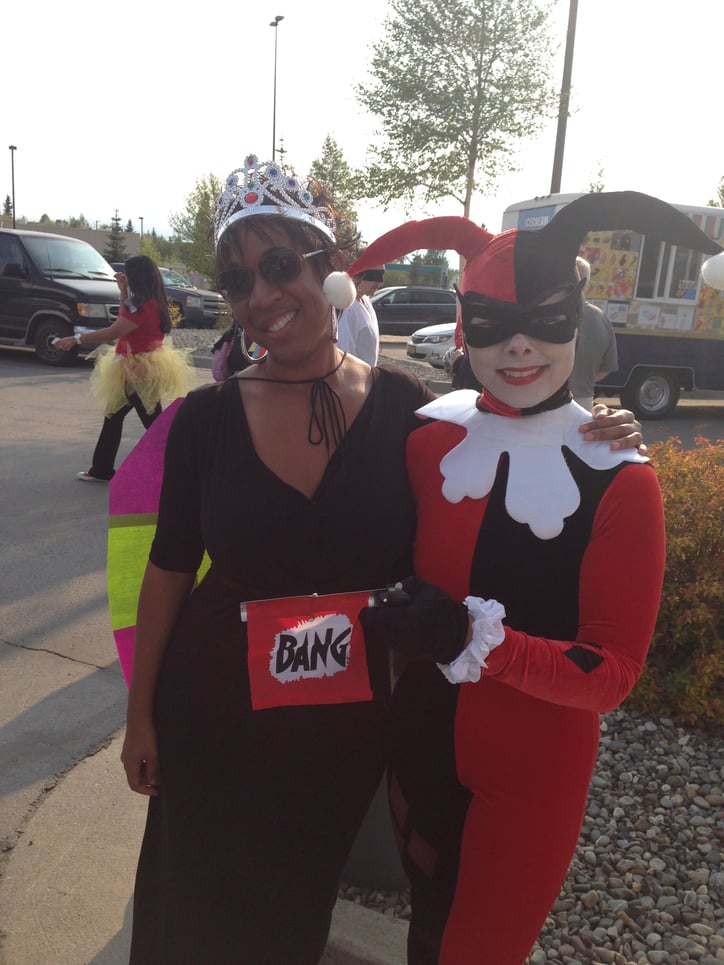 Employee Appreciation Day is always a big event at CU1. Here are Davina and Rachel celebrating our "superheros and villains" theme in style! #besties
Davina and Rachel are both incredible advocates for the credit union movement, and they're each also helping lead positive change across Alaska. Not to mention, these ladies are role models to an entire organization of future leaders at CU1! Check out a few of the amazing quotes we gathered from Davina and Rachel's colleagues, in celebration of their recent promotions:
James Wileman, President/CEO
"Davina and Rachel have each played a critical part in many people-first initiatives during their time with our organization. Among many achievements, Davina has led the effort to centralize our loan decisioning, which allows CU1 loan officers to focus more fully on our members' individual needs. This has saved our organization time, allowed for better service, and set us on the path for future streamlining achievements. Rachel radiates #CU1LUV and has served in many vital positions in the credit union over the years. She knows what Credit Union 1 is about and is the perfect person to meet our ongoing needs as COO. One of the things I always want to make sure of is that we have a strong executive team in place to help guide Credit Union 1 going forward. Rachel and Davina are each a great fit in their roles, and I am excited to have them working in their new capacities!"
Leslie Ellis, former CU1 President/CEO
"I'm delighted to recognize the recent promotions of Rachel Langtry and Davina Napier to the positions of COO and CLO respectively. Both have risen through the ranks and are proof that dedication and hard work pay off. Both Rachel and Davina have strong work ethic and serve as role models to many at CU1. They lead by example and are able to effectively balance the needs of the organization while maintaining a strong connection with employees under their supervision. As a result, they are recognized leaders within the credit union and highly respected by our vendor and community partners outside of the credit union. Their enthusiastic support of the Credit Union 1 mission statement and core values is infectious amongst the staff because they live it in their everyday lives. They walk the talk. I'm proud and thrilled that these two amazing women have risen to the executive ranks at CU1 and will be instrumental in the future success of Credit Union 1."
Evan Mulcahy, CU1 Innovation Strategist
"When I tell people what I do, I find myself telling them I work "with" Rachel not "for" her, because that's how she makes you feel. She's the ultimate team player, especially when she's the captain. Rachel is always there to support you and make sure everyone on her team is set up for success. She develops people, not just her employees. Her unbridled enthusiasm and optimism is contagious. Rachel is a positive influence wherever she goes. I just can't say enough good things about her and I cannot wait to see what awesomeness is up next!"
Tyler Hasbrouck, CU1 Member Service Center Manager
"What I #CU1LUV about Rachel is that she recognizes the importance of people and their experiences. She wants to hear what's wrong, what's right, and what you're thinking about before she starts formulating a plan. Rachel makes decisions that have a purpose and shows that she has a clear vision of where the credit union is going. I'm very happy that Rachel has the opportunity to work with many more departments, but I'm even more excited for the departments that get to work with her!"
John Moceri, CU1 Consumer Loans Assistant Manager
"Davina's dedication to the lending world and the credit union is simply inspirational. Since the day I was hired as a loan officer for Consumer Loans, I have been a witness to her continuous dedication. She has the ability to translate ideas and visions into reality. But no matter what she may be working on, she always makes the time to be available for anyone that may need her. It really is a privilege to be able to work with such a great leader! Thank you, Davina, for everything that you've done for us!"
Deborah Manfred, Vice President of Real Estate Lending
I've had the pleasure of working with Davina for a year and a half. In this short time I have been super impressed with Davina's leadership, work ethic, and overall attitude. She lives and breathes Credit Union 1 and is the true embodiment of #CU1LUV. I feel fortunate to have her as a boss and mentor and I know that she will be fabulous in her new role as Chief Lending Officer."
Chrissy Bell, SVP of Communications and Culture
"Credit Union 1 believes strongly in the importance of diversity and is proud that 78% of our leadership team is comprised of women. International Women's Day is the perfect time to celebrate the recent promotions of Davina Napier and Rachel Langtry to the C level executive team. Both Davina and Rachel have a long history with Credit Union 1 and are fiercely dedicated not only to our members and employees, but also to the credit union movement. We are all excited to have them as a part of the team leading the credit union into the future!"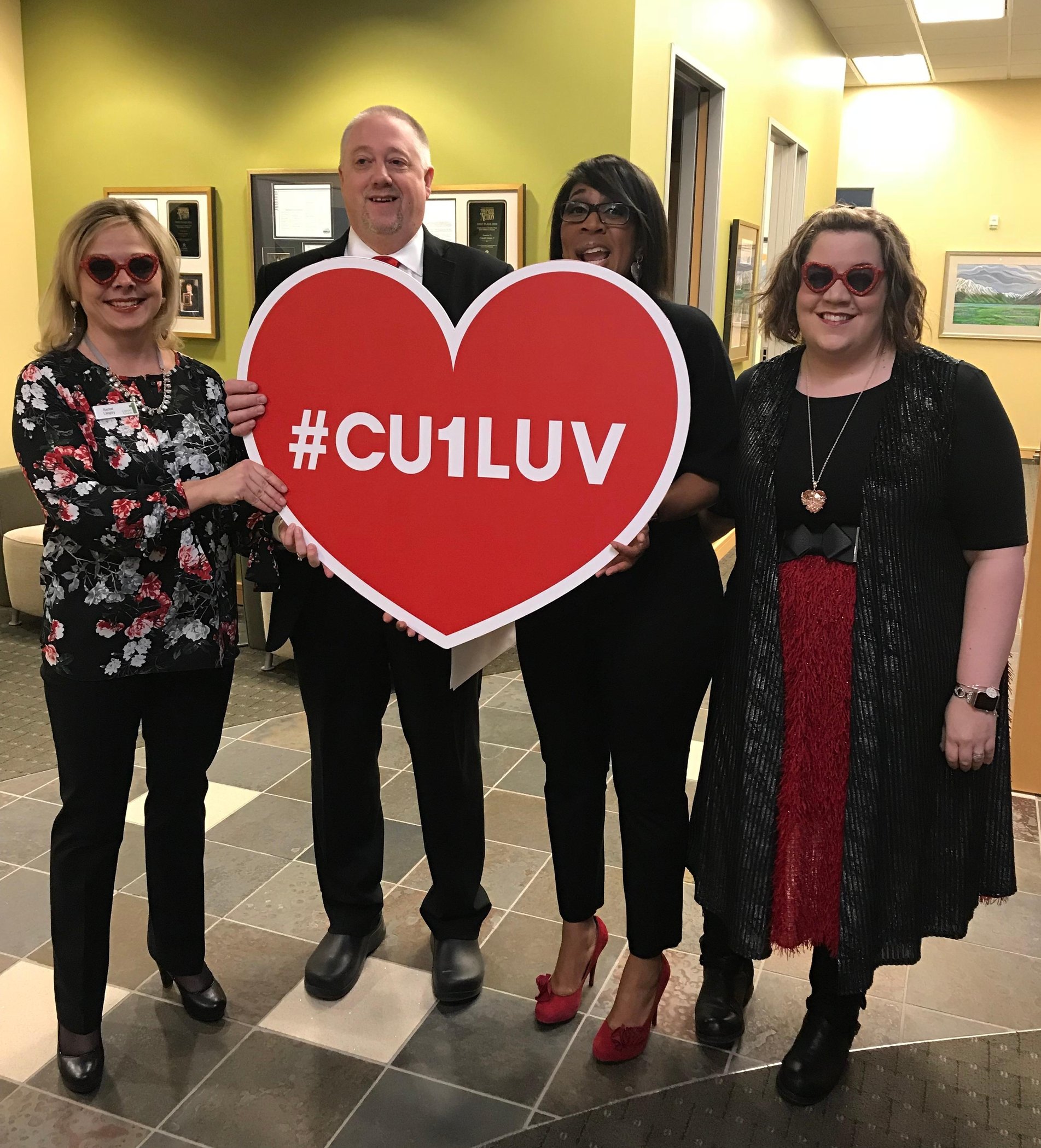 From left to right: Chief Operating Officer Rachel Langtry, President/CEO James Wileman, Chief Lending Officer Davina Napier, and SVP of Communications and Culture Chrissy Bell. This power quartet is paving the path for new and innovative ways that CU1 will serve Alaska in the future!
On International Women's Day and always, Credit Union 1 is honored to have such brilliant female leaders on our team. Our organization is uniquely committed to leading change, uplifting others and valuing people across our state – and Davina and Rachel live this commitment to #CU1LUV each and every day. Thank you both for your service to our credit union, and we look forward to what's to come!