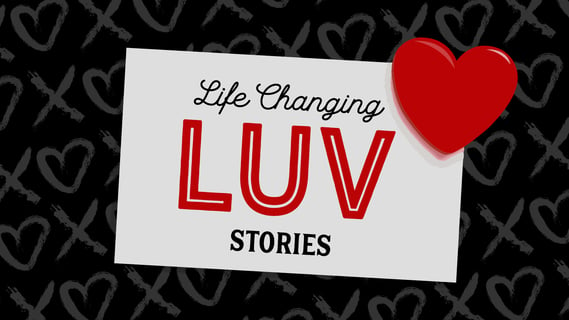 Ahhh, LUV is in the air. At Credit Union 1, we skip the chocolates and flowers on Valentine's Day (although that'd be cool too), and instead we celebrate the ways we make our members smile, improve their finances, impact the local community and enhance the quality of life for our much-loved fellow Alaskans.
Each day that we open our doors, we have the privilege of helping Alaskans plan for and finance their dreams. Along the way, we hear your struggles and accomplishments, and we do our best to make this wild journey through life a bit easier for you, both financially and philanthropically.
You may not see our #CU1LUV story on the Hallmark channel (maybe though?), but we hope you'll feel it during every interaction with us.
Read on for a few real-life, heartwarming #CU1LUV stories from our members!
❤️ Andre W.
CU1 has always been so great to me. I've been a member of many different banks, but this credit union always treats me above and beyond the rest. CU1 has been there to help through my financial hardships and help me reach my financial goals. I would personally like to thank CU1 staff for working with me to help me rebuild my credit. The woman who assisted me has been so helpful through this process, making sure every step was easy as well as providing me with great information and resources to educate me (and help me repair my credit and auto loans)! Thanks again for everything! #CU1forLife

---
❤️
Elizabeth B.
Credit Union 1 has given us wonderful service overall over the years, but most recently we obtained a loan for an ATV. The woman who helped us in the Anchorage office was extremely helpful, knowledgeable and professional, and she made it very easy to complete the transaction in a timely manner. She was available for questions and returned calls quickly. We appreciate her assistance in obtaining our loan!

---
❤️
Janelle M.
This year has been challenging. One of my children has had a lot of medical appointments, and CU1 has helped greatly with financial security for us. We live in remote Alaska, and traveling to Anchorage for much-needed appointments was a bit much for us -- but thankfully CU1 helped immensely to keep us secure. For that I feel blessed and grateful!

---
❤️
Vivian B.
As a single mom & "starving artist" in 1977, I answered an ad for a graphic artist position in Anchorage. I got the job -- and my first paycheck for $500 went into FedAlaska Credit Union! The rest is history as FedAlaska merged into CU1, and I've since been happy with three auto loans and one boat loan for my charter business that has now been successful for 22 years. Thank you CU1 for 45 years of excellent service!

---
Know someone who needs a new relationship with their finances?


Share the #CU1LUV and send them to Credit Union 1.