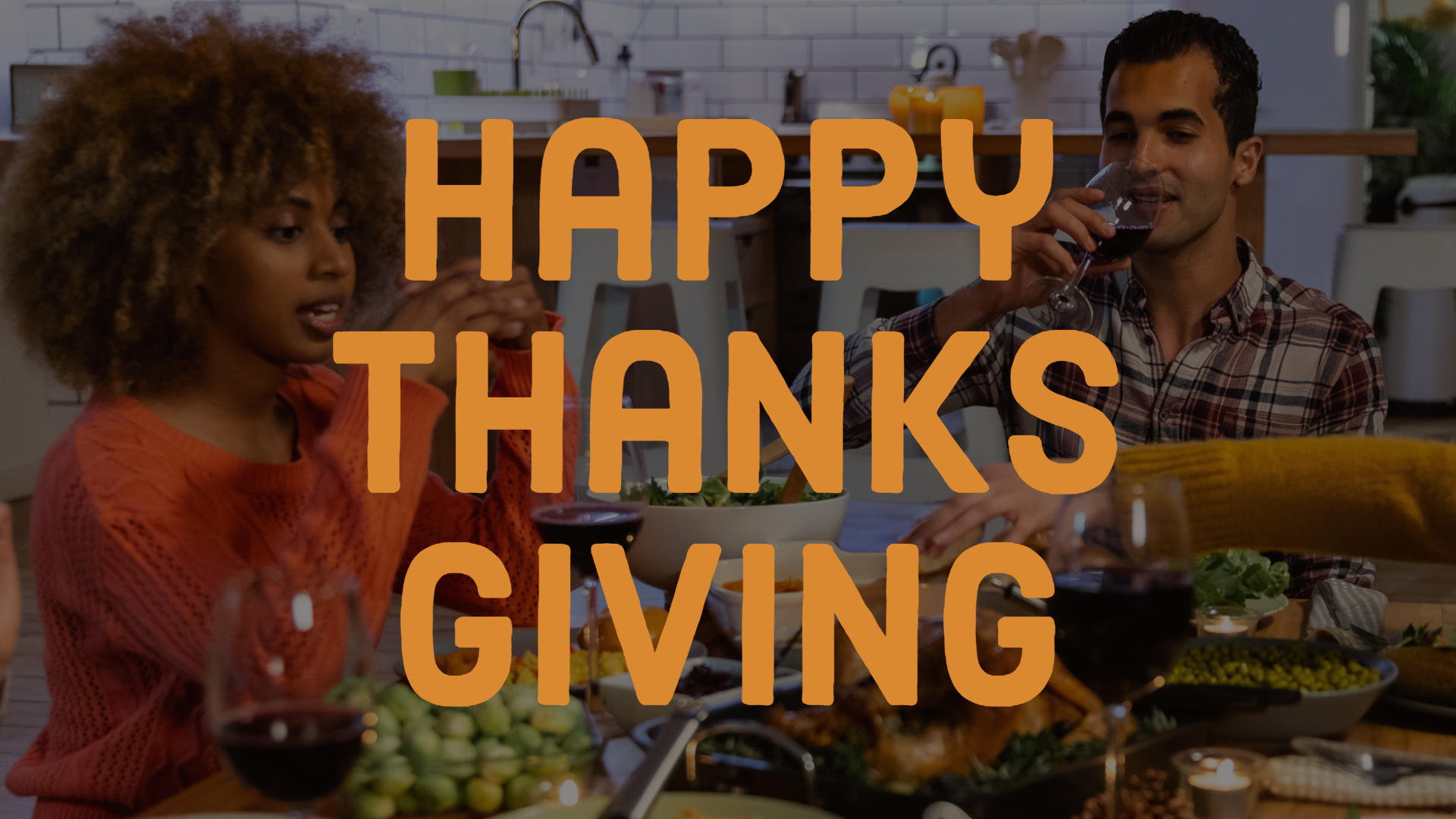 With so many food-filled holidays coming up, we recently shared recipes for financial success with our CU1 email subscribers. If you missed out, here are the key ingredients! The cooking analogies were ripe (overripe?), but we don't want to leave you without some REAL food to fill up on as well.
To help you prepare both your pocketbook AND your dinner table for holiday festivities, here are a few of our employees' favorite family recipes. Try them out and leave your feedback in the comments below!
Cranberry Sauce
💛 Shared by our Marketing Manager, Elizabeth Nerland
12 oz. of fresh or frozen cranberries
1 cup sugar
1 strip orange or lemon zest
Sugar, cinnamon, salt and pepper to taste
Empty a 12-ounce bag of fresh or frozen cranberries into a saucepan and transfer 1/2 cup to a small bowl. Add 1 cup sugar, 1 strip orange or lemon zest and 2 tablespoons water to the pan and cook over low heat, stirring occasionally, until the sugar dissolves and the cranberries are soft (about 10 minutes).
Increase the heat to medium and cook until the cranberries burst (about 12 minutes). Reduce the heat to low and stir in the reserved cranberries. Add sugar, salt and pepper to taste and cool to room temperature before serving.

This is such an easy recipe and always a big hit! I originally found it on Food Network Kitchen, and to add my own touch I prefer orange zest over lemon zest. Instead of adding salt and sugar at the end, I like to add a pinch of cinnamon. Presentation of this dish is also nice with a few strips of orange zest, a few cinnamon sticks and a sprig of mint. Voila!
Lima Bean Casserole
💛 Shared by our Communications Coordinator, James Osowski
2 1lb cans Lima Beans
1 small minced onion
6 slices diced bacon
1 cup diced ham
2 tsp. mustard
¼ cup brown sugar
1 heaping cup sour cream
2 tbsp. vinegar
Pepper to taste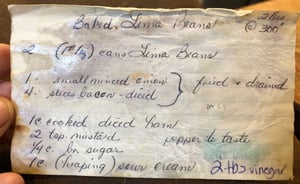 Fry up the bacon and ham in a large skillet, drain grease and add in the onions. Once the onions are caramelized, mix everything into a large casserole dish and bake at 300°F for two hours. Take the dish out of the oven and let it set for 10 minutes. Enjoy!

This recipe has been in my family for over 60 years and my mom has made it for every holiday feast as long as I can remember. She usually makes two batches so we can have leftovers. Everyone always says they don't like lima beans when I mention this recipe, but once they try it they always come back for seconds. You can modify the ingredients as well depending on how you'd like it to turn out; for example I like to add extra bacon because what isn't better with some more bacon?! I think the original recipe came from a family friend of my great grandmother's back in the 1950s.
Bite Size Apple Pies
💛 Shared by our Digital Marketing Analyst, Christopher Johnson
1/2 c. sugar
2 tsp. cinnamon
1 pkg. (14.1 oz.) refrigerated pie crust
3 tbsp. melted butter, divided
2 medium tart apples, each cut into 8 wedges
In a small bowl, combine the sugar and cinnamon and set aside 1 tbsp. On a lightly floured surface, unroll the pastry. Brush with 2 tbsp. melted butter, sprinkle with remaining sugar mixture.
Cut each sheet into (8) one inch strips, about 8 in. long each. Wrap one strip around each apple wedge, placing the sugared side of the pastry against the apple. Place these on a parchment paper lined baking sheet. Brush tops with melted butter and sprinkle with sugar mixture. Bake at 425°F for 13-15 minutes or until pastry is golden brown. Serve warm. Makes 16.

This recipe is originally from Taste of Home, and it's important to me because it holds the holiday flavors of cinnamon and sweet apples that embody the spirit of the season. These delicious bites are a reminder of all the special things that make the holidays fun!
Sweet Potato Casserole
💛 Shared by our Public Relations and Editorial Director, Jessica Gallagher
For the filling:
4 lbs. of large sweet potatoes
1 stick butter
3/4 cup half & half or milk
1/2 cup packed brown sugar
1 tsp. vanilla extract
1 tsp. salt
1/2 teaspoon cinnamon
For the topping:
1/2 cup butter, melted
1/2 cup flour
3/4 cup packed brown sugar
1 cup chopped pecans
1/2 teaspoon salt
1/2 teaspoon cinnamon
Preheat oven to 350°F degrees. Grease a 9x13 inch baking dish with non-stick spray or butter and set aside. Wash and peel the sweet potatoes. Lay them on a cutting board and cut in half. Place the potatoes in a large pot and cover with cold water. Bring to a boil and cook for 15-20 minutes until tender. Drain the water from the potatoes and return them to the pot.
Add the melted butter, half & half, brown sugar, vanilla, salt, and cinnamon to the potatoes and use a hand masher (or hand mixer) to mash until smooth. Pour into prepared baking dish and spread out evenly.
For the topping: In a medium bowl stir together the melted butter, flour, brown sugar, pecans, salt and cinnamon until moistened. Crumble the topping evenly over the sweet potatoes.
Bake in preheated oven for 30-35 minutes until set.

My children are big fans of two things at Thanksgiving: buns and dessert. I searched for a semi-healthier option that would still catch their eye, and this one from the Salty Marshmallow did the trick! They think they're eating dessert (which I suppose this sort of is), but they're also getting some health-packed sweet potatoes out of the deal. Win-win.
Chicken Sausage and Herb Stuffing
💛 Shared by our Brand Designer, Katie Schrooten
14 oz. whole wheat French bread or baguette, crusts removed (weight after crust is removed)
2 tbsp. whipped butter
1 1/2 cups diced yellow onion
1 3/4 cups (about 4 stalks) diced celery
13 oz. fresh sweet Italian chicken sausage, casing removed
1/4 cup chopped fresh sage
1 tbsp. chopped fresh thyme
3 1/4 cups reduced sodium chicken broth
Salt and freshly ground pepper, to taste
Cooking spray
Cut the bread into 1/2-inch cubes. Spread the bread out on a baking sheet and let it dry overnight - OR - place the baking sheet in a 350°F oven and bake about 20 minutes, or until the bread is dried out. Set aside.
Preheat oven to 375°F. Spray a large baking dish with oil.
In a large sauté pan, melt the butter over medium heat. Add the onion and celery and sauté, stirring occasionally, until tender and translucent, about 8 minutes. Transfer to a large bowl.
In the same pan over medium heat, cook the sausage, crumbling with a wooden spoon, until lightly browned and cooked through, about 10 minutes. Transfer the sausage to the bowl with the onion/celery mixture.
Add the bread, sage and thyme to the bowl with the sausage/onion mixture and stir to combine. Add the chicken broth and stir to evenly coat the bread. Adjust salt and pepper to taste and stir to mix well.
Transfer to the baking dish and bake for 30 minutes. Using a wooden spoon, gently stir. Continue baking until golden, about 30 to 35 minutes more. Serve immediately.

Rachel (our COO) recommended this recipe from SkinnyTaste to me after I mentioned that I always have Stove Top stuffing out of a box on Thanksgiving. That year I made her stuffing for our family meal, and now it's a new family favorite!
Orange Jello
💛 Shared by our Marketing Manager, Elizabeth Nerland
2-3 boxes of orange Jello
2 cans of mandarin oranges (drained)
Mini marshmallows to your hearts content (but probably no more than about a bag J)
In a greased Bundt pan (my mom always used a fluted Bundt pan for extra fanciness), spread the strained mandarin oranges evenly. Prepare the Jello according to the box instructions. Pour into the Bundt pan. Cover evenly with a healthy helping of mini marshmallows. With a wooden spoon, push the marshmallows down so their drenched in orange Jello (the marshmallows will pop back up to the top). Refrigerate as advised on the Jello box, or until the Jello is completely set. When ready to serve, transfer the Jello to a plate by flipping the Bundt pan onto a plate and removing the pan. Fill the center with more marshmallows.
Note: if the pan doesn't release, dip the Bundt pan quickly in warm water (without getting water into the dish) to help release the Jello.

I do this one by memory from watching my mom make it when I was growing up. It was an absolute must at our Thanksgiving table growing up. Perhaps the best part about Thanksgiving (at least for a kid) are all the dishes that involve mini marshmallows – and this one does not disappoint.