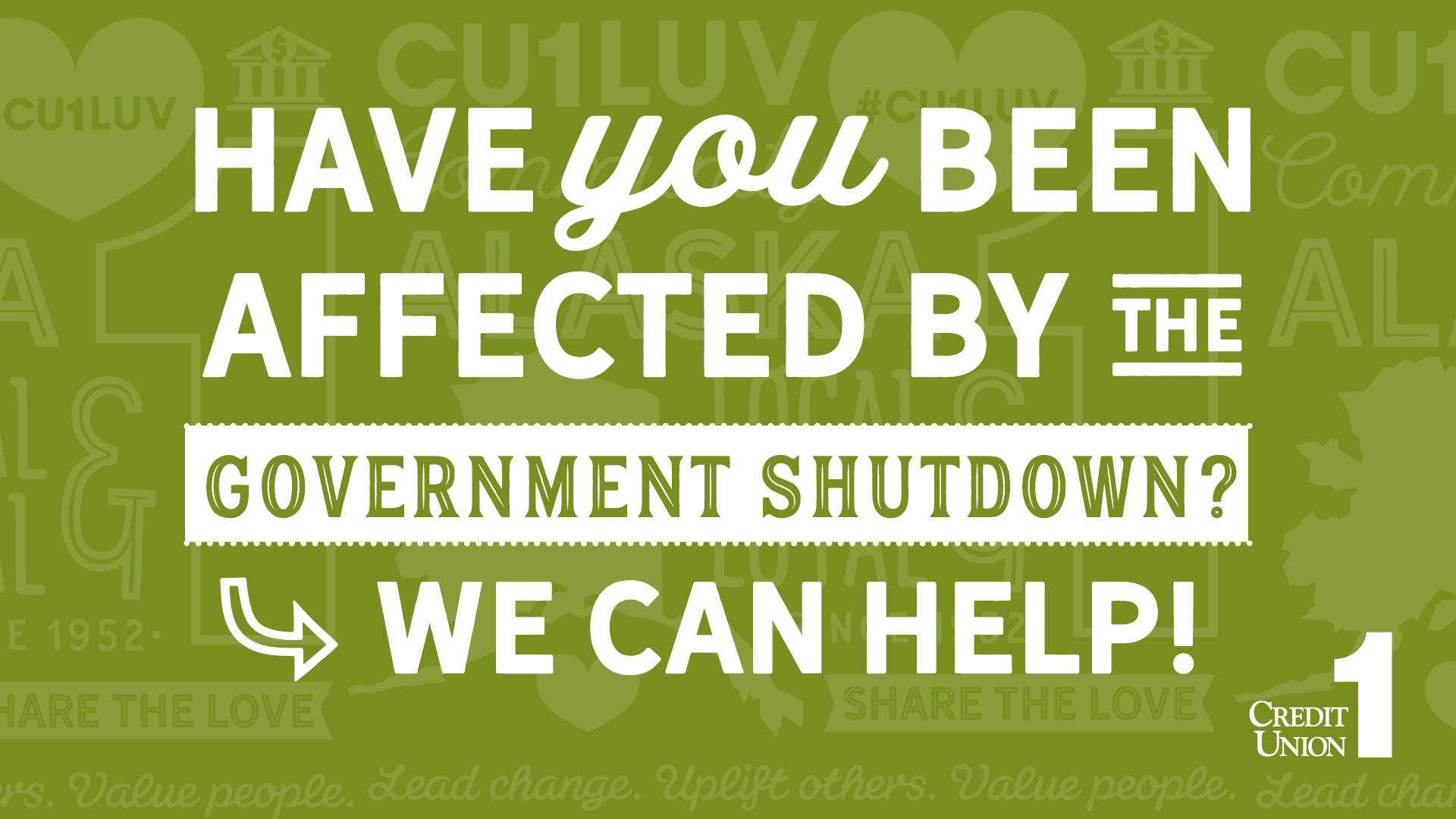 With the recent government shutdown and ongoing economic changes statewide, we know that many of our fellow Alaskans and CU1 members may be struggling to make ends meet. For some folks, this means a job lay-off, pay changes or other uncertainty. No matter your age or career status, this type of change is never easy! Thankfully, when life throws you a curve ball, you're not alone. Check out a few ways that Credit Union 1 can help:
1. Resource Fair
Credit Union 1 is partnering with several community agencies to offer a resource fair on February 1st from 3-7pm at CU1's headquarters building, 1941 Abbott Road in Anchorage. Areas of assistance will include food, housing, temporary staffing, resume building and loan assistance. Just bring your employee ID or a business card! Come enjoy refreshments and a chance to win a $100 Mastercard® gift card! Learn more.

2. 0% APR Loan for up to $1,000 with No Payments for 90 Days*
Would a small loan make a huge difference in carrying you through this difficult time? Chat with CU1 about borrowing up to $1,000 via a 0% APR loan with a 180 day term and make no payments for the first 90 days.

3. Extended Loan Payments
If you need more flexibility in the payment arrangement on your loan, let us know. We can work with you.

4. Due Date Changes
If your pay frequency has recently changed, we can adjust your due date to better match pay day.

5. Skip-a-Pay
Need a month off from one payment to provide wiggle room on other items? That's an option too! If you've been impacted by an employment furlough, we may be able to reverse our standard Skip-a-Pay fee to help further ease your budget.

6. Assistance with Overdraft Fees
If you've recently incurred overdraft fees due to an employment furlough, let's talk about reversing a portion of these costs. Ask us, and we'll see what we can do!

7. Loan Consolidation
With only one payment, there's no need to stress about multiple responsibilities each month.
8. Refinancing
By extending your loan term, you'll lower the monthly payment.

9. Communication
Make sure that the address, phone number and email you have one file with us are accurate, so we can reach you with important info you need. These items can be easily updated via Online Access > Settings.

10. Be Proactive!
The sooner you contact Credit Union 1, the more options we'll have available for you.
---
Financial dry spells are never easy to weather, but they can be a lot more manageable with help from your member-owned, 100% Alaskan credit union. We're here to serve YOU through good times and bad – so don't hesitate to ask for a hand when you need it! Together, we can protect your finances and chart a positive path forward.
*Terms and conditions apply. See a CU1 representative for details.