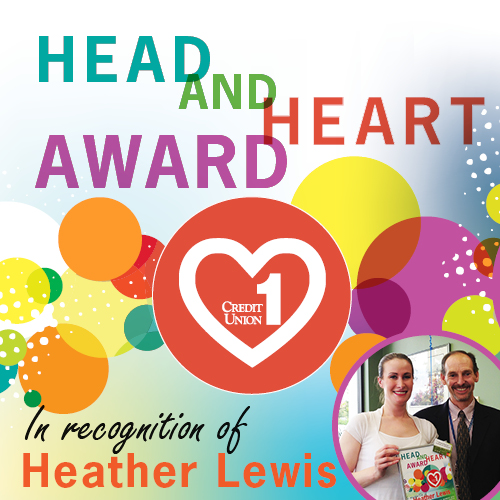 If there's one thing I've learned as an employee and now President of CU1, it's that Credit Union 1 loves to celebrate. When our members land a much needed loan or reach an important savings goal, we celebrate! When we donate funds and volunteer time to our communities, we celebrate! Today, I'm happy to share a new way we're celebrating the employees who help make these achievements possible: the Head and Heart Award. Our very first winner? Heather Lewis, a Member Service Officer at Credit Union 1's DeBarr Branch!
A huge part of our success at Credit Union 1 comes in using our heads to help our members in need. However, smart thinking isn't the only thing that makes us unique! Each and every day, we help Alaskans with our heads and HEARTS – which is what truly sets CU1 apart. Recently, Heather used her head and heart to help two special members in need:
The first, Heather helped with a post-accident auto loan. Her member was without a vehicle and desperately needed to bring her three large dogs to the vet. Heather offered to bring her to the vet, help calm her dogs, and even assisted with some paperwork!

The second member, Heather assisted after a bad experience at another institution. With Heather's help, this elderly member was able to transfer her funds to CU1 with ease and peace of mind. Although this member suffered from severe arthritis, she still delivered a personal thank-you note to Heather for her efforts!