---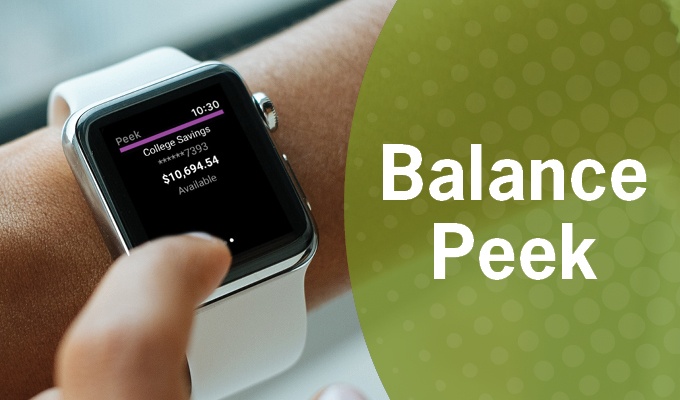 Quickly view your available balance via our new Balance Peek feature.
Credit Union 1 is excited to announce a new feature of the CU1 Mobile App! To help you track funds on-the-go, you can now enable Balance Peek to view your available balance in just a few taps. Once enabled, you won't need to fully sign-in to our app to view your balance!
Here's how it works:
---
To use Balance Peek for the first time, you'll need to sign-in to the CU1 Mobile App and tap the menu icon at top left. In the dropdown menu, select Settings > Balance Peek and follow on-screen instructions to select which accounts you'd like to view via this feature.
After you've chosen your accounts and enabled this feature, give yourself a high five. Viewing your available balance just got a whole lot easier.
The next time you're standing in a checkout line and need to view your available balance, simply tap our app and enjoy a speedy peek at this info! No full sign-in is necessary, which saves precious moments as the fellow in front of you wraps up his bulk cat food transaction.
Bonus: Balance Peek is also compatible with wearable devices!

---
It's a great day at CU1 when we get to share a handy new feature with our members. Sign-in to the CU1 Mobile App to get started, and activate Balance Peek today!
---