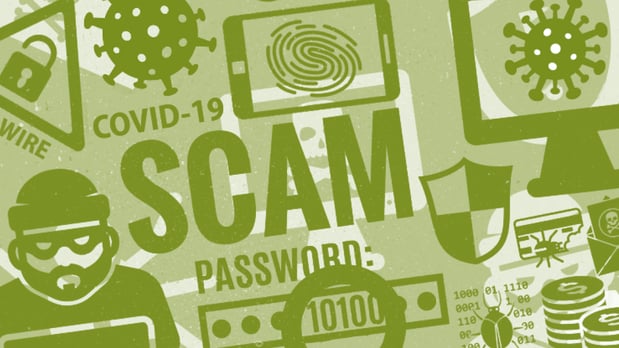 In times of crisis, fraudsters are in tune with opportunities to take advantage of people. Our current public health crisis is no exception. Learn tips to protect yourself from identity theft, financial loss and more!
In recent months, fraudsters and scam artists have devised new ways to use COVID-19 to take advantage of people through social media, fake text messages, emails that appear to be from a legitimate source but are not, and more. Scammers have even gone so far as to establish phony websites that trick you into providing personal or financial information!
Be aware that some of these scam emails, texts and social posts may be cleverly disguised as promoting COVID-19 health tips, or they may prey on the fear of COVID-19 cases in your neighborhood. These posts might also ask for monetary donations or contain malicious attachments. Read on for scams to watch for and ways to protect yourself.
Examples of different scams:
Spoofed emails that appear to be from a legitimate company. To spy these spoofs, be sure to always inspect the sender's email address and do not reply to emails or click on links in unconfirmed messages. If you're unsure of a message that seems to be from Credit Union 1, contact us for confirmation through our website, app or by phone. If a phone number is provided in a suspicious email, be sure to verify that number by looking it up online, too.
Work-From-Home scams involving a newly-recruited "employee," (often a member) with instructions from their "boss" to wait for a deposit into the employee's account, followed by specific instructions on where to send those funds, typically via a wire transfer to a third party. The "boss" will often provide fictitious "invoices" related to the supposed purchase of personal protective equipment and other COVID-19 related items such a hand sanitizer. The source of funds for the initial deposit are often illegitimately derived.
Mailed or emailed offers of "debt relief" from unverified and unsolicited sources. These requests may ask for your personal information in order to steal your money or identity. Never provide personal information to a source you have not confirmed as legitimate.
Requests for payment via wire transfer for an item you'll receive after payment. Wire transfers are similar to cash in that once they're sent to a fraudster, that money is irretrievable and you may never receive your item.
---
CU1 SAFETY TIP
Remember that Credit Union 1 will never call, email or text you asking for you social security number, credit card numbers or login information.
---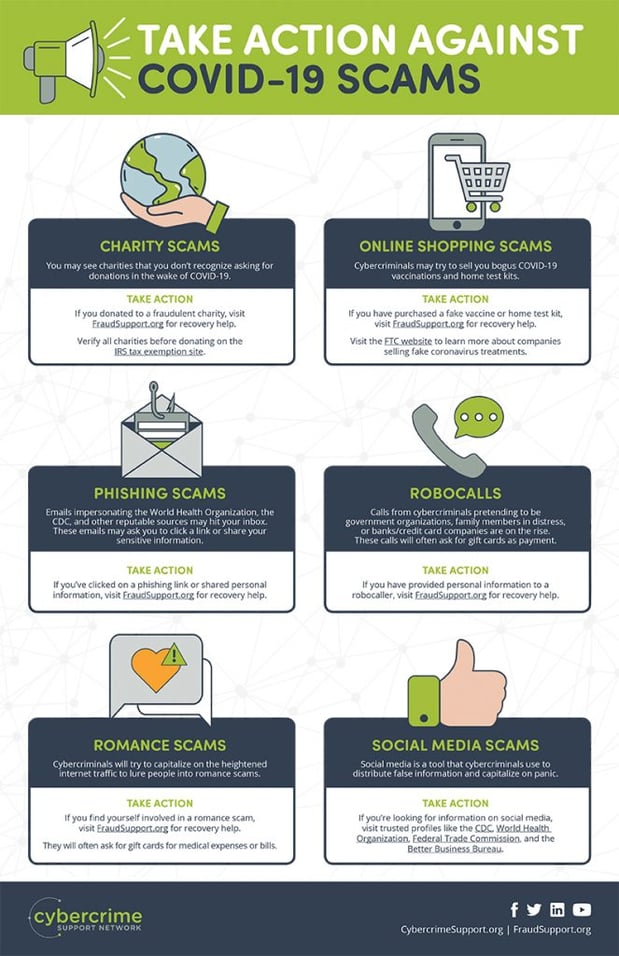 What to watch out for:
Do research when it comes to donations to charities or crowdfunding sites. It is not recommended to send donations in cash, by gift card or by wiring money.

Work-from-home opportunities that sound too good to be true, as they typically are! These types of scams often involve a fraudster acting behind-the-scenes, posing as a legitimate employer.
---
CU1 SAFETY TIP
If a wire transfer transaction turns out to be fraudulent, those funds are unrecoverable. Do not wire funds to people you don't know.
---
Watch for emails claiming to be from the Centers for Disease Control and Prevention (CDC) or experts saying that they have information about the virus. Visit the

Centers for Disease Control and Prevention

(CDC) and the

World Health Organization

(WHO) websites for the most up-to-date information about the COVID-19.




Do not click on links from unknown sources

in emails or texts, as these links could be a harmful virus. Make sure the anti-malware and anti-virus software on your computer is up to date.




Keep your computers and mobile devices up to date with anti-virus and anti-malware. Scammers may use mobile apps or links to websites that promise COVID-19 trackers and maps that are malicious. Stick with the known legitimate sources like the CDC and WHO.

Ignore online ads for vaccinations, prevention, treatment or cure claims for COVID-19. If there is a COVID-19

breakthrough

, it's unlikely you would first hear about it through online ads.

Be wary of 'investment opportunities.'

The U.S. Securities and Exchange Commission (SEC)

is warning people about social media posts claiming that the products or services of publicly-traded companies can prevent, detect or cure COVID-19 and the stock value of these companies will see a significant increase as a result.
---
CU1 SAFETY TIP
More people are social distancing and working from home these days, which means higher online activity. Fraudsters exploit situations like this by sending even more phishing emails and texts. To protect yourself, be alert.
---
What to do if you've been victimized:
Contact Credit Union 1 immediately if you suspect your private information or finances have been compromised or stolen.
You can also report scammers to the FBI's Internet Crime Complaint Center. If you come across any suspicious claims related to COVID-19, report them to the FTC.
Free tools to prevent fraud:
Keep an eye on your credit score and credit report changes with real time credit monitoring. Sign up for Credit Union 1's free Credit Score service inside Online Access today.

Download the CU1 CardControl app so that you can instantly "turn off" your CU1 card if it is lost or stolen.

Avoid wiring or transferring funds to a recipient you do not personally know.

Read additional identity theft prevention tips on our website.