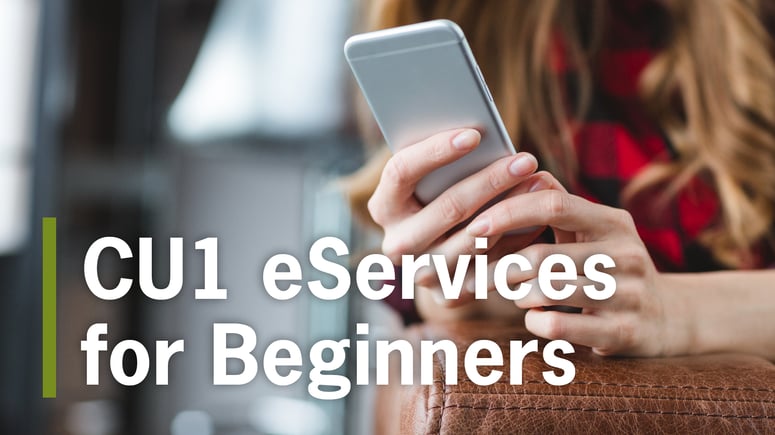 Ready to enjoy "anytime" access to your CU1 account and save yourself an in-branch trip? When staying home is wise or necessary, eServices let you manage your money from anywhere with internet. If you're new to paperless options, you've found the perfect path to get started.
Wading into the eServices pool can seem a little intimidating at first. Don't worry! We'll start on the shallow end with useful tools that anyone can take advantage of. We've lined out basic steps for exploring each service, so you can check them out at your convenience and get a feel for how they benefit your every day life.
Video Appointments
We'd love to chat with you via Zoom! Choose the type of appointment you'd like to schedule with CU1. We'll confirm it and provide a link to access your meeting via Zoom video chat. You can access this service via your computer, tablet or phone, and there's no need to install anything on your device.
Convenience alert! If you need a new debit or credit card, cashiers check, money order or temporary checks, you can now submit your request in advance, and we'll have the item waiting for you at our branch. Save time while social distancing!
Online Access Tools
Online Access is Credit Union 1's free tool for "home banking." By logging in to your secure account, you can see similar information to what a teller would share with you -- such as your account balance, recent transactions and checks that have cleared your account. You can view this information any time, day or night!
Online Access also allows you to take action with your funds from home. You can make loan payments, transfer funds between accounts, or even schedule recurring payments to be sent elsewhere. To register for Online Access, follow the step-by-step instructions on this page.
Once you're signed into your secure account, you'll see clearly labeled tiles that direct you to different Online Access tools. Play around and see what options are most useful to you!
The CU1 Mobile App
After you've registered for Online Access, you can manage your CU1 account via a mobile device as well. First visit the App Store or Google Play, depending on your device type, to download the CU1 Mobile App. Once you've installed this free app, you can enjoy many of the same perks as Online Access, plus more!
For example, check out the handy "Remote Deposit" feature of our app. As you tap through step-by-step instructions, you'll be able to deposit paper checks to your Credit Union 1 account simply by snapping a few photos of them. Talk about time-saving!
Deposit ATMs
Need to deposit cash or physical checks? Believe it or not, we have an eService for that as well. Visit one of CU1's special deposit ATMs to drop these items off in a speedy and secure way, any time of day, without waiting in-branch.
Bill Pay
We all have a lot on our plates these days, and remembering to send out individual bill payments can be unnecessarily stressful. Instead, start each new month on the right foot by scheduling your recurring payments electronically through CU1's Bill Pay service.
To get started, simply sign in to Online Access (that handy tool we mentioned above), and select the Bill Pay tile from your left toolbar. From there, you'll find step-by-step instructions to register for this service and get your first bills scheduled for payment.
The CU1 Bill Pay service is FREE for anyone with a Super Saver or Premium Spending account, and otherwise it's just $4.95 a month for an individual member. If you don't use the service during a particular month, you won't be charged.
Own a business that would benefit from this service? Our business members can access Bill Pay as well for $9.95 a month.
---
CU1 Tutorial Series
Are you a visual learner? We have you covered. Check out the CU1 Tutorial Series for a variety of on-screen walkthroughs. You can choose the eServices that speak to you, watch helpful tutorials at your leisure, and get comfortable with options that make life easier. Hurrah!