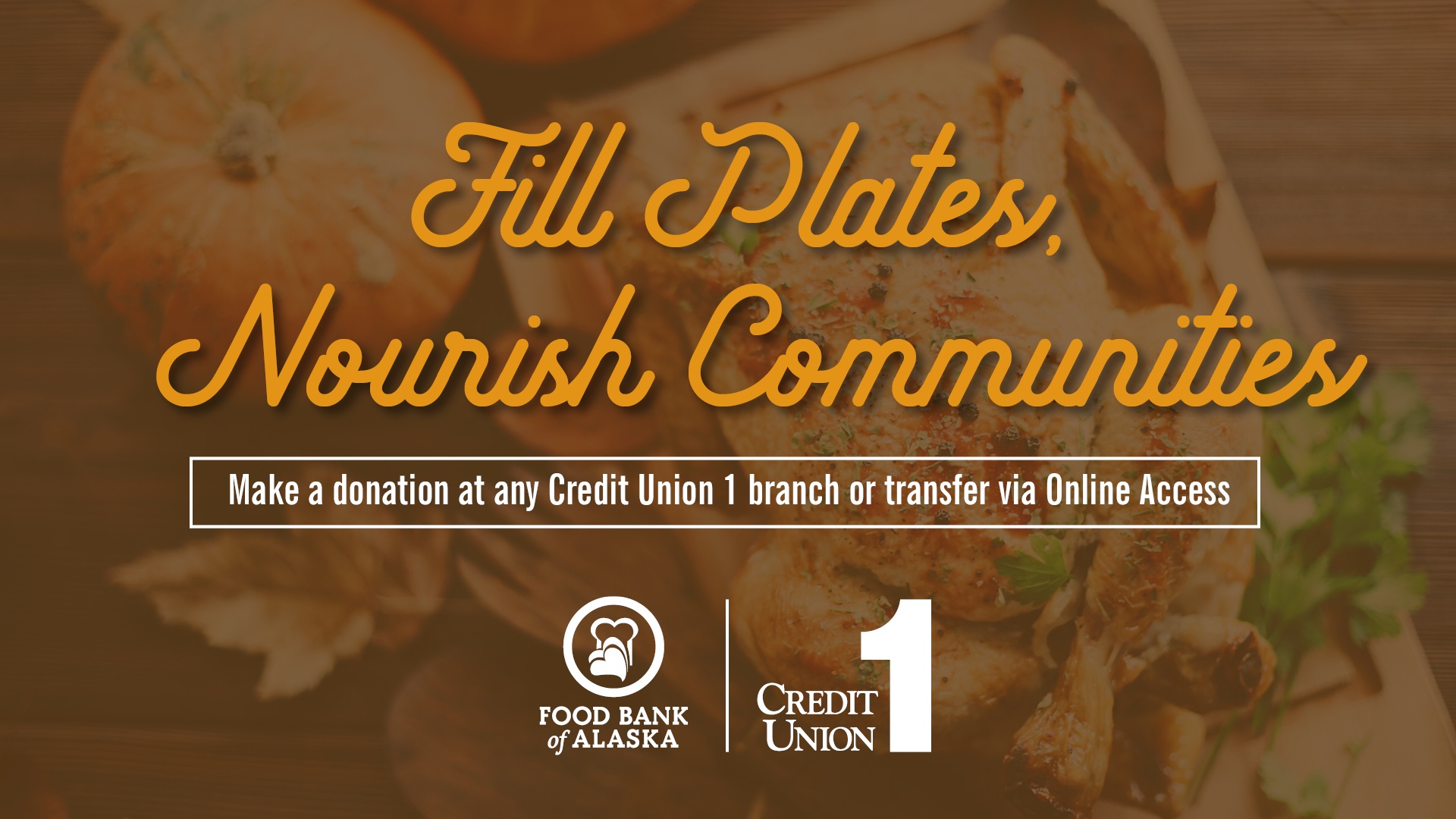 Throughout November, in tandem with #CU1LUV Month, Credit Union 1 will be raising funds for the Food Bank of Alaska. This local organization helps provide healthy meals for families in need throughout our state! Since 1979, they have been securing donated food for nonprofit agencies to distribute to hungry Alaskans. By donating to the Food Bank of Alaska, you'll help positively impact the fight against hunger right here in our state. Talk about sharing the #CU1LUV!
Hunger Affects Many Alaskans
Did you know that in Alaska, 1 in 7 of your fellow community members is food insecure? This means they're struggling to feed themselves and their families, and they rely on resources such as the Food Bank of Alaska to survive in times of need.
To help ease the stress of hunger, especially during the holiday season, Credit Union 1 will be fundraising in branches and also hosting special "Double Donations Days" for the Food Bank in November. For every dollar you donate, you could make twice the impact for local Alaskans!
Many families affected by hunger include friends and faces you see every day. The grandmother next door, your co-worker in the office – these fellow Alaskans may depend on the Food Bank of Alaska to help feed themselves and their families. Whether you visit a CU1 branch or transfer funds via Online Access, the care you show with each donation could mean the world to those around you.
How Your Donation Will Change Lives
In Anchorage and the Mat-Su, money donated by CU1 members will help the Food Bank buy turkeys, potatoes and fruit for Thanksgiving Blessing. During this wonderful community-wide collaborative event, more than 2,000 volunteers distribute groceries for a complete holiday meal to families that could not otherwise afford to celebrate with a special meal. In previous years, over 10,000 families have participated!
Donations from members in Fairbanks, Kenai, Soldotna, Nome, Kodiak and Ketchikan will be used by food banks in those communities to collect and distribute food for their neighbors in need. While there are more food insecure people living in urban Alaska, the prevalence of food insecurity is higher in rural Alaska, with rates up to 26.7%.
---
Donate to the Food Bank of Alaska today by visiting any Credit Union 1 branch or by transferring funds in Online Access to account 457311 S1.4 CSC.