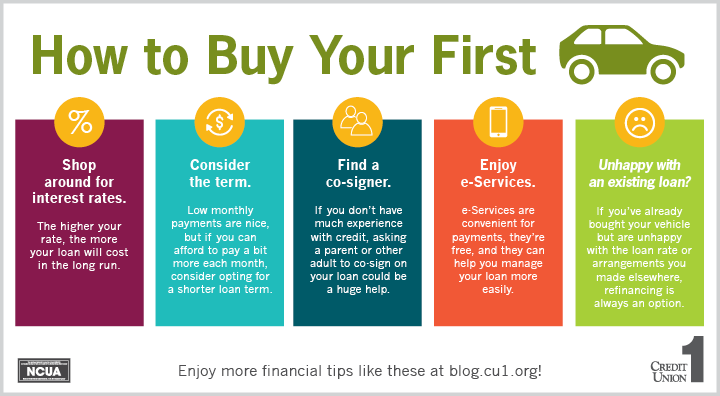 What an exciting time! You're in the market for your first car, which means new found freedom to go places. You've likely set a budget and have some idea of what vehicle type you'd like – however, you may also need an auto loan to help make this dream happen. Don't worry! Auto loans are pretty straightforward and simple. Here's what you need to know:
Interest rates matter. The higher your rate, the more your loan will cost in the long run. Check out what rate options are available to you, and pick the one that best matches the payment you can afford. APR = annual percentage rate, and the lower this number the better off you'll be.
Consider the term. Low monthly payments are nice, but if you can afford to pay a bit more each month, consider opting for a shorter loan term (such as 36 months instead of 60). You may earn a lower interest rate with this option, plus your loan will cost less overall!
Need a co-signer? If you don't have much experience with credit (or if you've hit some credit potholes in the past), asking a parent or other adult to co-sign on your loan could be a huge help. With a co-signer, you could enjoy a lower interest rate because your loan will be considered more secure to the financial institution.
Active your eServices. At places like CU1, you may also earn a lower interest rate on your auto loan by using eServices like DocuSign to close your loan. These services are convenient, free, and they can help you manage your loan more easily. What's not to love?
Unhappy with an existing loan? If you've already bought your vehicle but are unhappy with the loan rate or arrangements you made elsewhere, refinancing is always an option. We can take a look at your situation and help find ways to sweeten the deal.
Look at you! You now have the knowledge and power to pick a great auto loan – but don't stop there! By applying for your loan before you start shopping, you'll know exactly how much you can spend. Applying online is fast and easy – plus, it will open the doors to a loan expert who can help you through the rest of this process. Here are a few handy items to have on hand when you apply:
A government-issued ID such as your Driver's License.
Pay statements from your most recent 30 days of employment. These must reflect your year-to-date income.
Proof of insurance. You'll need to fully insure your new vehicle, so this is a helpful item to provide upfront. However, if you haven't selected your purchase yet, don't worry! We'll ask you to supply proof of insurance once shopping is complete.
There you have it! Although buying your first vehicle can seem like a tricky task, it's really pretty straightforward (and can even be fun). CU1 loan experts are always on hand to help with any additional questions you have – and we can even help you choose the paint color, if you'd like.
Happy car shopping!