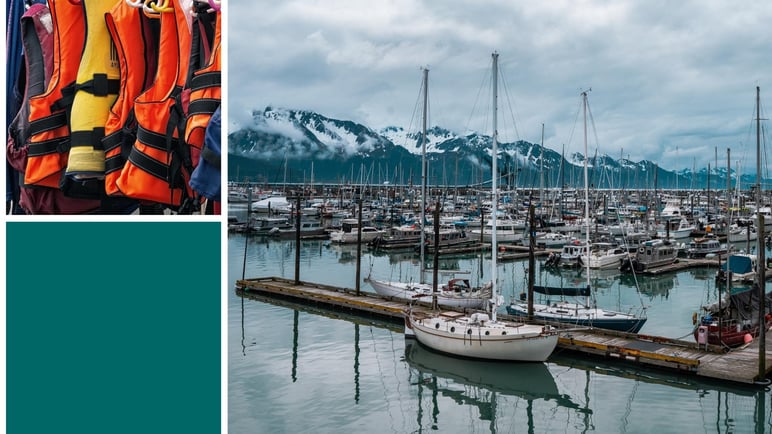 Boating Season is just around the corner, here are some tips to get you out on the water!
Sign up for a vessel safety check
Want to ensure that your boat is in tip-top shape for the waves ahead? Now's the perfect time to sign up for a vessel safety check, provided (for free!) by the US Coast Guard Auxiliary. Even if your first big summer boat trip is still a month or so away, taking care of the safety check now will prevent a last-minute scramble later on.
Fill out your float plan
Another helpful tool provided by the Coast Guard is the "float plan" -- a thorough document that lets you provide information about your boat, passengers and itinerary. Its purpose is to give family and friends on land a chance to know your whereabouts, when to expect you back, and where they should be able to reach you.
Not sure where the summer will take you? Get inspiration from the Alaska Public Lands Information Centers and download land and sea maps for your next trip.
Protect yourself and your passengers
If it's been a while since you last hit the water, you may have new passengers coming along with you. Ensure that you have life jackets on board for all members of your crew. In addition, keep extra personal flotation devices, hip-waders, protective eye gear, waterproof jackets, sunblock and sunglasses on board for extra safety measures.
Check the condition of your vessel
Alaska waters are no joke. Icy-cold water, huge tides and unpredictable, violent weather can make fishing offshore a very difficult task. Safety is a prime consideration when operating your boat. In accordance with your safety check, see if there any repairs or fixes to make and make them. Rest easy on your next trip without worrying about repair time.
Let's go fishin'
Alaska is a world-renowned sport fishing destination. In fact, in this land of 3,000 rivers, 3 million lakes and 6,640 miles of coastline, a fisherman's greatest challenge can just be deciding where to go! Here are five places you can't go wrong when it comes to fishing in Alaska, depending on what you're looking for.
Alaska offers four main types of fishing. Sport fishing is open to nearly anyone, while commercial, subsistence, and personal use fishing are limited to certain areas, certain types of gear, or just to Alaska residents. Find out what type of fish you qualify to catch at the Alaska Department of Fish and Game, and don't forget to renew your fishing license while you're there.
---
Are you ready to take advantage of Alaska's blue and breathtaking waters?
Whether you love to fish or simply sightsee, Credit Union 1 has great deals on boat loans to help you set sail. Our loan experts will guide you from fishing those "for sale" ads to hooking the boat of your dreams! Fresh salmon, fresh halibut and fresh sea air are only a few waves away.
*Terms and conditions apply. Visit cu1.org for details.