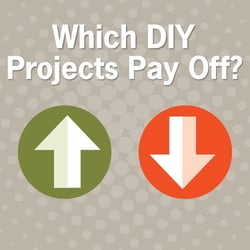 Alaskans experience a unique phenomenon in the summer: we suddenly have energy to GO GO GO without sleep or sustenance! If you've ever caught yourself mowing the lawn or grocery shopping at 11pm on a sunny weeknight, you know what I mean. Although this energy can feel dangerously close to crazy-town at times, it's also a great way to accomplish more than you normally would.
With summer winding down, it may be time to harness your amped up motivation and tackle those DIY projects you've postponed (for dipnetting, mountain climbing, summer concerts and all the other cool things you do!). Could your home use new windows or doors? Have you had a bathroom addition on your mind, or are you hoping to sell in the spring and need to make improvements beforehand? These projects have DIY written all over them (or hey, you could use a contractor too – no judgement).
Before you get started, there are a few important things to know. Not all home improvement projects are created equal – meaning that not only do some take more time or money, but some will give you more or less return on your home's overall value. So don't choose your project too hastily! It's important to balance the fuzzy-good-feeling "value" that a project will give you (because a new deck would be AMAAAAZING!) versus the monetary value you'll retain. Check out the cool info below to learn which projects pay off the best versus which can be total duds. And good luck getting your DIY on!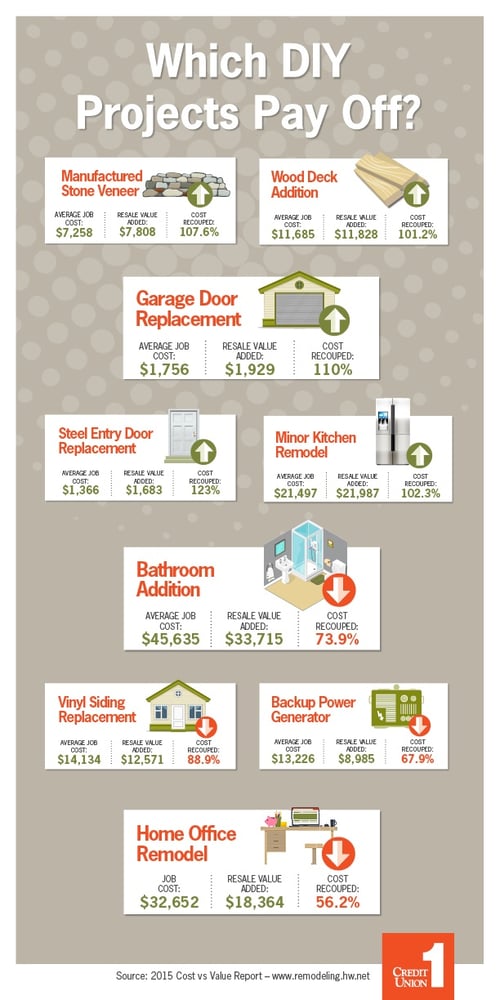 Need some extra funds to help you get started on your own home renovation project?
Enjoy today's blog? Let us know in the comments! Subscribe to send our posts straight to your inbox! Keep updated with news of all the cool stuff we're doing and talking about at CU1.